The Rec Center starts rockin' when the students come knockin' after the game.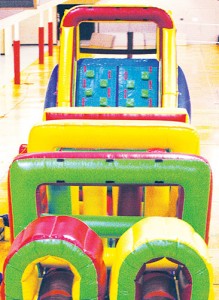 The University Recreation Center will be rockin' out after the first home football game of the year.
This big welcome party will take place on Saturday, Aug. 29 at 9 p.m.
No admission required; Everything is free, including "ice cream, novelties, wax hands, airbrush t-shirts, and more," said Cindy Horn, University Recreation Director.
This event has been around since 2001 and was originally held at the Rankin Center, said Horn. It was first called the Rankin Rave, then Rockin' in the Rankin, and now Rockin' in the Rec.
During the three hour event, Horn hopes to see more than 1,000 attendees. In her words, "good crowd makes a great party." "Lots of students, lots of interactions; it's a great way to break the ice for all students, making it easier to have fun."
"This event is held in order to allow our new and returning students and opportunity to have fun and build social relationships," said Horn.
The party changes each year, more specifically the novelties, but the main idea of the event, being a big welcome party, will never change.
Horn said this event has always been one of the more popular events to kick off the school year. She encourages all students to support our Bulldogs in their first home football game and come to the Rec Center for some rip roaring fun.
Many events take place to welcome students, but this one helps students to really connect with others in a way they can all enjoy.
For more information contact Horn at hornc@nullferris.edu or x5309.