Boasting a roster of 27 players, Ferris' team hopes to expand on its record from last year.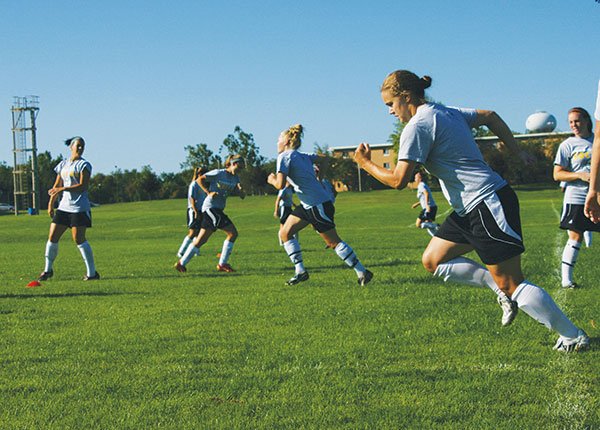 With five of last year's starters now graduated, two of them captains, the women's soccer team will be searching for leadership – both on the field and off as they set the tone for their season and the 11 newcomers to the team. Composed primarily of forwards, the new team members will be relying on the experience of the defensive end of the field made up of returning players. Senior defender and midfielder Stevie Salow said the team is strong and has a chance to make history this season.
"All of the seniors have been stepping up and playing a leadership role," said Salow.
Also new to Bulldog soccer as an assistant coach is former Grand Valley State University goalkeeper now Ferris State graduate student, Kristen Nasturzio. Volunteering his services again as assistant coach is Steve Graetz of Big Rapids, Mich., a seventh grade teacher at the Crossroads Charter Academy and former four-year starter for Spring Arbor University.
Head coach Neathen Gibson has brought in new faces in an effort to bolster the team's season.
"Having this many girls makes it possible for someone to recover better if they pick up an injury," said Gibson. Finishing last year with a record of 9-9-1 overall and 7-6-1 and fourth place in the Great Lakes Intercollegiate Athletic Conference (GLIAC), the Bulldogs were running at about the middle of the pack.
"We're going to have to win the games we need to win," said Gibson.
Their schedule kicks off on Aug. 28 against Minnesota State University in Mankato at 5 p.m. and at Winona State in Minnesota two days later. Minnesota State has a record of 16-4-2 overall while Winona State finished last season with a record of 19-3-1.