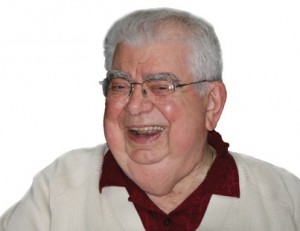 At nearly 80 years of age, Dan Yovich of Grand Rapids, Mich. is still a man who knows how to solve problems… and make some, too.
In the early 1960s, Yovich developed a puzzle game called "Krypto" in response to his wife's frequent and adamant requests that he learn to play Bridge. "I didn't want to play Bridge, so I invented a game that she'd have to learn to play," said Yovich. "Krypto" went on to be purchased by various game and puzzle companies, including Parker Brothers.
In a life full of solving problems ranging from his work as a research chemist for Dutch Boy Paint company to a cryptologist for the United States Army during the Korean war to an entrepreneur and puzzle producer spending long nights at his kitchen table putting his creativity to the test, Yovich has found joy in the task and shared that joy with men and women of all ages.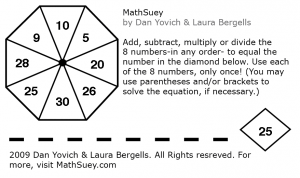 Yovich came up with the concept of "MathSuey", a six or eight number math puzzle that will be running in the Torch, a few months ago during his retirement after a 21 year career as a college professor of small business and applied creativity. "I don't golf, don't fish, don't hunt. I'm not into those Macho Man kind of things," said Yovich. So, to fill his time, he and co-creator Laura Bergells, also of Grand Rapids, developed this puzzle.
"Invention is easy. Marketing is hard," said Yovich of his grassroots campaign to publish the puzzle in various college newspapers across the country. Bergells handles the more web-based side of the advertising and through mathsuey.com.
The idea of MathSuey hiding behind the façade of a text book in the classrooms at Ferris State and distracting the students from their lecture brought a healthy guffaw from the puzzle man. "I used to tell my wife when I was teaching that I wanted to die teaching; standing in front of my students at the blackboard. Then, they would all get to leave class early," said Yovich. "Now, I want to die at the kitchen table making a puzzle – and my wife will have to solve it!"