Former Bulldog All-American Jake Visser is still hoping for a chance to play in the NFL.
What Will Visser Do?
NFL
$310,000
17 Weeks
Practice Squad
$88,400
17 Weeks
United Football League
$35,000
6 Games
Teach in Texas
$34,000
1 Year
After getting a chance at an NFL career with the Houston Texans, former Ferris State defensive tackle Jake Visser is without a team after being released by the Texans two weeks ago to make roster space.
Visser, a two-time NCAA Division II All-American and Academic All-American, was released by the Houston Texans on Aug. 6. Visser went undrafted in Aprils NFL draft, but signed a free-agent contract with the Texans 72 hours after the draft. Visser had been participating in the Texans off-season program and taking part in the Texans' training camp.
The Texans released Visser to open a roster spot after starting cornerback Jacques Reeves suffered a fractured fibula during a practice session. The team then signed veteran cornerback Deltha O'Neal to help bolster their suddenly depleted defensive backfield, which has only one healthy veteran cornerback in Fred Bennett.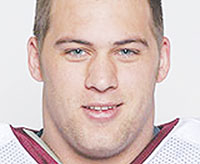 Visser will now hit the NFL waiver wire, where any team can claim him and add him to their roster, without having to re-negotiate a contract with him. If more than one team tries to claim Visser, the team with the worst record would be awarded his rights. The Texans can also reclaim Visser and place him back on their roster.
"My agent has been in contact with a couple of teams, but I haven't heard anything personally from any teams though," said Visser.
Visser had aspirations for an NFL career, but he also had planned for a career outside of football. Visser has one class left to take before he can graduate with a degree in secondary education and has aspirations to become a teacher.
"I'm going to keep my focus on working towards a degree so I can move on with a career in teaching," said Visser.
For now, Visser will have to wait and see if he gets another chance with an NFL franchise or if he will have to move on with a career in education.
"I'm going to keep working towards a career in football and continue to stay in playing shape for the next year or two so that if I get the call from a team, I'll be ready," said Visser.