The 1968 football team was the first in school history to record an undefeated season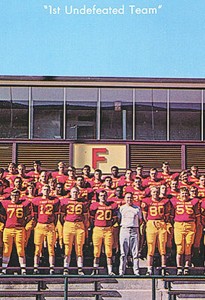 In just one year, the Bulldog football program went from winless to undefeated.
Ferris State College was not a football powerhouse in the mid-1960s. In fact, from 1964 to 1967, the Bulldogs won only one game. Their 1-26-4 record during that span is the worst four-year record in Ferris football history.
What transposed throughout the course of the 1968 season was unexpected. After beginning the season with a 13-13 tie against Taylor (Ind.), captain Ron Harke said 7-0-1 is not too bad. His prediction, though inconceivable at the time, came true as the Bulldogs reeled off seven consecutive victories.
Bob Leach, who had coached the team to a winless 0-7-1 record in his first season, knew he had to turn the program around. Leach recruited athletes who wanted to play football, but get an education as well, since there were no scholarships at the time.
Leach recruited old players, young players and even war veterans. He invited African American athletes to play at Ferris when other schools nationwide were not recruiting them. The quarterback, Al Beamer, described the team as a bunch of misfits.
Wayne State, Michigan Tech and Findlay are the only three teams currently in the Great Lakes Intercollegiate Athletic Conference (GLIAC) which the 1968 team played.
In the final game of the season, the Bulldogs upset a very talented Illinois State team, 29-28. Illinois State was so good at the time that a few of its players were even drafted to play professional football. Illinois State is now a NCAA Division 1 Football Championship Subdivision (FCS) team.
"We really had some outstanding coaching and our philosophy was a philosophy of team and of chemistry," said Larry Marfechuk, a senior offensive lineman on the 1968 team.