Ferris Alumnus, Shawn Christian, on "Days of Our Lives"
Shawn Christian is famous for acting in multiple television shows, including "As the World Turns," the short-lived "Summerland," and currently "Days of Our Lives."
Christian, born in Grand Rapids, Mich., graduated from Rogers High School in Wyoming, Mich., where he was voted as having the "Hottest Student Body" by his high school classmates. He then went on to obtain a degree in Marketing from Ferris State University in 1989 before moving to Chicago after graduation.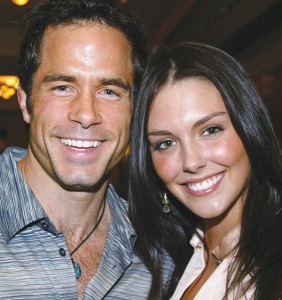 He first landed a spot with the company "Improv Olympic," where he honed his acting skills.
While auditioning for a print ad in Chicago, he met his soon-to-be-wife, Deborah Quinn. Both were models then. They now have a son together named Kameron who was born in July of 2000.
Christian has always been a help to the community; he received the Congressional Medal of Merit in the early 90s.
Christian started to hit it big in 1994 when he landed his first role in the hit TV show "As the World Turns." He stayed on the show for three years before moving to L.A. to act on shows like "Charmed" and "Crossing Jordan."
He was also the first ever male spokesmodel to appear on the TV show "Star Search" back in 1994.
While acting in "As the World Turns," he was nominated for "Hottest Male Star" by Soap Opera Digest magazine in 1995.
As he began to gain status, he climbed the acting chain and proved himself for roles in famous shows like "Ellen," "Step by Step," "Beverly Hills, 90210," "CSI: Crime Scene Investigation," "Friends," "The Drew Carey Show," "Las Vegas," and more.
He's also acted in a couple of movies, but for now he's sticking with playing Dr. Daniel Jonas in "Days of Our Lives."
Some interesting facts about Christian are: he acted with his step-daughter, Taylor Cole, in Summerland, he shares the same birthday with Brad Pitt, and is also on the roster of an NBAE (National Basketball Association Entertainment) team. For the 2007/2008 season he played for the Miami Heat with teammates Jay Harrington and Taye Diggs.