The women's tennis team will try to improve on an 11-10 record from last season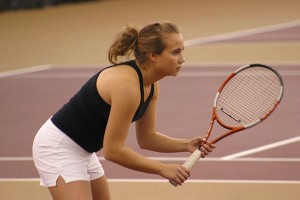 The women's tennis team is looking to rely on a young, but experienced roster to help improve on an 11-10 overall record from 2008.
With only one senior on the roster, the team will rely heavily on the experience of four sophomores, two juniors, and one freshman respectively. Even with a fairly young team, head coach Alex Palladino, who also serves as the men's tennis coach, is confident that last year's experience will make for a stronger team.
"We've got a really deep top six right now and I think that our team depth will really help us out this season," said Palladino. Even with the emphasis on depth, the team will rely on a few key veteran players to improve on a 5-4 record in the Great Lakes Intercollegiate Athletic Conference (GLIAC).
Returning junior Amy Ingle, an All-GLIAC Second Team selection, is one of the players that Palladino is looking to lead the team by example.
"Amy has really stepped up her game and I'm hoping that she can be a leader with the way she plays," said Palladino.
Junior Tiffany Rheynard, who earned most improved player honors last season, also figures to play a key part in helping the team improve its position in the GLIAC.
"Tiffany held down a singles spot for us last year and she has really been improving," said Palladino, "I'm expecting really good things from her this season."
Daniela Dimas, the lone senior on the 2009 team, suffered through injuries last year but is poised for a bounce back season. Palladino said if Dimas can stay healthy this season, she is capable of being a key player for the team.
Also returning this year are sophomores Mary Coleman, Natalie Diorio, Blair McCarty, and Melissa Flowers, who will help provide the team with some needed experience and depth.
Freshman recruit Tabitha Simpson is the lone new addition in an effort to add to the team dynamic.
"Tabitha will really help out our depth and will only get better," said Palladino.
With the experience and varied ages of the players, Palladino hopes that his team can be a force in the GLIAC conference.
"If the girls can keep the level they were at last year, I really think we can do some good things this year," said Palladino.
The Bulldogs will begin their season with a conference match at Saginaw Valley State on Sept. 4 at 1 p.m.