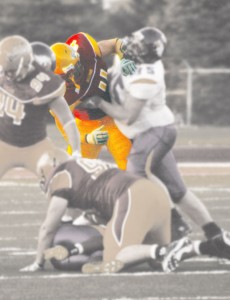 Kyle Fitzpatrick is looking to go from being known as a utility player to having a reputation as a playmaker.
Fitzpatrick, a redshirt junior linebacker from Vestaburg, Mich., earned GLIAC defensive player of the week honors after he came off the bench to have a huge impact for the Bulldogs with five tackles, a sack, and a key 65-yard interception return for a touchdown in a 34-14 victory for Ferris State against Tiffin on Aug. 29.
Fitzpatrick's interception return came at a pivotal time in the second quarter with the Bulldogs leading 17-7. It gave the Bulldogs momentum going into halftime and a 24-7 lead.
"I think it definitely broke their spirit a little bit," said Fitzpatrick, "When you go up three scores it forces a team to get away from their game plan and start to rely on the passing game and we were able to take advantage of that."
Fitzpatrick followed up his performance with a solid outing against Ashland in a 44-23 loss, in which he recorded five tackles. For a player who had never seen any playing time on defense in a game situation, Fitzpatrick's performance could serve as a confidence boost to other players who are trying to carry the momentum form this performance into the rest of the season.
"It was my first time playing on defense in a game when we played Tiffin," said Fitzpatrick. He said he sat behind older players and an All-American since he has been here.
"I just went out there and my play definitely served as a confidence boost to set me up for the rest of the year," said Fitzpatrick.
Fitzpatrick, who has experience playing all three linebacker positions, has a reputation as a jack-of-all-trades player for the Bulldogs. Following his performance early in the season, he has an opportunity to add defensive playmaker to his reputation.
For Fitzpatrick to capitalize on this opportunity, he knows that he will have to continue performing at a high level every week.
"I think everyone is wondering if I can keep up the performance I had last week through the whole season," said Fitzpatrick, "I'm just going to go into every game with the focus I had the first week and hopefully I can keep performing at a high level for our team."