Rugby team wants you to join the pack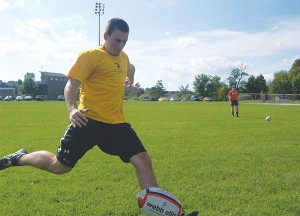 The Ferris men's club rugby team is entering its 19th season and is still looking to add approximately 13 more people to the squad.
As of now, the team has 13 returning starters and 14 new members. As it is for most club sports, there is a cost of $135 which covers the entire year.
There are more tournaments and games during the spring, which the fee also covers. There are no try-outs, and everyone is guaranteed playing time.
In each match there is an A-team which consists of the starters and a B-team which ensures everyone will see the pitch (field). The rugby team is coached by Kevin Keating.
"We are looking for guys that love to tackle, and guys that need to get some aggression out," said Keating.
Men's Rugby Schedule
Sept. 12
3:00 p.m.
@ GVSU vs. Hillsdale
Sept. 19
1:00 p.m.
@ U of M Dearborn
Sept. 26
1:00 p.m
vs. Central Michigan
Oct. 3
1:00 p.m.
vs. GVSU
Oct. 10
1:00 p.m.
@ Davenport
Oct. 17
1:00 p.m.
@ Western Michigan
Oct. 24
1:00 p.m.
vs. Hillsdale
The strength of this year's team is its speed. Keating also said they kick the ball all over the field, which is uncommon for Michigan rugby.
Ferris opened the season last Saturday at Michigan State and lost the game 30-0. Even though the Bulldogs fought hard, they were at a distinct disadvantage since only 19 players traveled to the game.
With so few players dressing, the Bulldogs were forced to play some people out of position and used three players that have never even played rugby before. A shortage of players was not their only shortcoming though, as the much larger MSU team pushed around the smaller Ferris squad for much of the game.
Note: The Rugby President, Jeff Thompson, is trying to get the matchup against Central moved to Friday Sept. 25. It is usually the most exciting game of the year and he is hoping for a large turnout in the stands.
Fun Facts
Basketball was invented by a rugby coach in 1891 – Dr. James Naismith was looking for an indoor activity to provide winter conditioning for his rugby players.
Rugby was an Olympic sport in 1900, 1908, 1920, and 1924. The US won the Gold Medal in 1920 and in 1924.
Famous people who played rugby: Sean Connery, John F. Kennedy, J.R.R. Tolkien, Bill Clinton, George W. Bush, Russell Crowe, Chris Farley, Meat Loaf, Ernesto "Che" Guevara