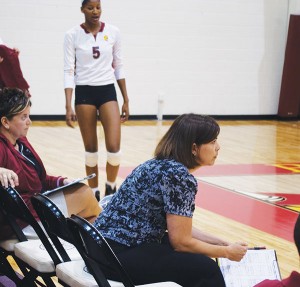 Tia Brandel-Wilhelm is one of the winningest active coaches in Division II volleyball history with 393 career victories.
Brandel-Wilhelm did not always want to be a volleyball coach. She did not begin playing volleyball until she was in high school. In fact, the only reason she began playing was because it was the only winter sport offered for girls at the time.
"I played basketball and ran track and so it just gave me something to do in high school," said Brandel-Wilhelm.
Originally from Whitehall, Mich. and a graduate of Alma College, Brandel-Wilhelm played volleyball throughout her collegiate career. The idea of coaching volleyball was not in the forefront of her mind when she accepted her first coaching job. The high school near Alma College needed a middle school coach and she was up to the task.
"I got the J.V. job and I just kind of kept stumbling along from there," said Brandel-Wilhelm.
After graduating, Brandel-Wilhelm accepted a graduate assistant coaching position at West Virginia Wesleyan College (WVWC) to pursue her education, as well as her young coaching career. She served as an assistant for the softball and track teams as well. In 1993, Brandel-Wilhelm took over as the head volleyball coach at WVWC and never looked back.
Though she was the head coach at WVWC for only three seasons, she amassed an astonishing 118-20 overall record. Her squads won the conference title all three seasons and her team finished fifth at the 1995 NCAA Division II Championships.
During her stay in West Virginia, Brandel-Wilhelm met Jill Hirschinger, the Bulldog volleyball coach at the time. Theie relationship grew and when Hirschinger was leaving the program, she encouraged Brandel-Wilhelm to apply.
As the Bulldog volleyball coach, Brandel-Wilhelm pushes her players to strive for excellence, both on and off the court. Being good at volleyball is not the only trait she desires in recruiting students.
"We consistently try to have programs that are about the whole person, not just about the volleyball player."
Brandel-Wilhelm is married to volunteer assistant coach Dale Wilhelm. She said their relationship during volleyball season is different at practice and games than at home.
"When we are in season and we're talking volleyball, it's very much a separate relationship than when we're talking as a husband and wife."
Now in her 14th yearwith the Bulldogs, Brandel-Wilhelm said she loves coaching at Ferris and has no plans of pursuing a job elsewhere.