The yearly meet-and-greet for students and organizations is just around the corner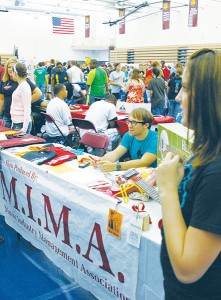 Bulldog Bonanza has returned for another year of fun and activities here on the Ferris State campus.
It will be held in the Wink Arena on Wednesday, Sept. 16 from 4 p.m. to 7 p.m.
This is a free event and all students are encouraged to come down and check it out.
Ferris student, Bek Ekkel commented on Bulldog Bonanza saying she thought it was a good way to get to know about different groups on and off campus.
Many registered student organizations, sororities and fraternities, FSU service departments, and businesses around the community will be attending.
Some of these include Entertainment Unlimited, Birkam Health Center, University Eye Center, and Little Caesars' Pizza along with others.
They will all be educating students on the services they have to offer. Many of them will also be giving out free food among other things.
Another Ferris student, Ted DeChane, said it was a good way to get people excited about the new year, and he enjoyed getting free stuff.
This event gives students the chance to get out of their rooms and meet new people and learn about ways to get involved in activities on campus and in the community.
This event is being sponsored by Student Leadership and Activities and Mecosta County Area Chamber of Commerce.
For more information, contact Teresa Fogel at fogelt@nullferris.edu or x5936.