Another round of blues music at Top Taggart Field
Big Daddy Fox and the Krewe are back to bring the blues to FSU.
The second annual Blues and Barbeque hits Top Taggart before the Ferris vs. Grand Valley football game Saturday, Sept. 19 from 4:30 to 6:30 p.m.
Admission into the event is $8 for Ferris students and $10 for adults and GVSU fans. Children 10 years old and under are free. If you bring a non-perishable food item, you can get a dollar off your ticket price.
The Student Government will "donate all of the food to the local food pantry and all of the money will benefit the student scholarship" for which this event was created.
The menu is expected to include hamburgers and hotdogs in addition to ribs.
Big Daddy Fox and the Krewe are Grand Rapids natives and performed last year for this event.
Big Daddy Fox was born in Muskegon and "discovered his love of music at the age of seven when he heard Cecil Fisher at a house party," according to his Web site, bigdaddyfox.net.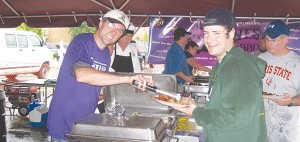 Big Daddy's biggest inspiration was Johnny "Guitar" Watson. He spent the summer of 1964 in Idlewild, Mich., "cutting his teeth with some of the remaining local musicians playing at the lake and at the park," said his Web site.
Big Daddy joined his first band called Jakki, in 1974. They toured disco clubs in New York city and managed to record their first single called "Sun Sun Sun." Their single was featured on Dick Clark's American Bandstand but the record went nowhere despite its national exposure.
In 1978 Big Daddy toured church halls and basements with legendary gospel artists Willie Banks and The Messengers.
After a year of touring, Big Daddy stopped playing and settled down for the next 20 years until in 1999 when he decided to take his first gig on a riverboat barge in Greenville, Miss.
Now after coming out of retirement Big Daddy has worked many series of local gigs in Michigan.
"Everywhere Big Daddy went the crowds and musicians loved him; people said 'aint' no party like a Big Daddy party,'" according to his Web site.
After 42 years in the music business Big Daddy was honored with the Lifetime Achievement Award by The Mid North Michigan Blues Society in 2006.
Big Daddy and the Krewe won the fifth annual MNMBS Blues challenge held at The Odawa Casino Resort in Petoskey, Mich.
Now Big Daddy will come back to Ferris again to liven up the barbeque with some blues
music.