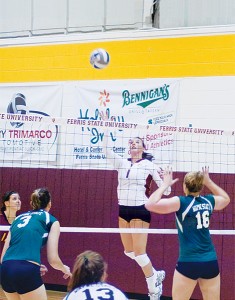 The Bulldog volleyball team is currently on a four game winning streak and has won seven of its last eight matches.
Ferris has a 9-3 overall record, including a 2-0 record in the Great Lakes Intercollegiate Athletic Conference (GLIAC).
One of those victories came against fifth-ranked Nebraska-Kearney.
Nebraska-Kearney was undefeated prior to the contest, and won the first set against the Bulldogs. Ferris then went on to win the next three sets in convincing fashion to pull off the upset. Senior middle hitter Sarah Lark went said going into the match they had a refuse to lose mentality.
"We have a mad-dog attitude that we will continue to show as the season goes on," said Lark.
Ferris defeated Northwood in their last match as they swept the Timberwolves, 3-0 (25-22, 25-22, 25-21). The Bulldogs had a .278 hitting percentage as they won their second conference contest in a row. This is the fifth sweep the Bulldogs have recorded this season.
Much of their success is contributed to how well they have played as a team overall. Lark said she sees that all the girls on the team work hard and commit themselves to being a top-caliber team. Co-captain Dana Ruttle is also able to tell how close this unit has become.
"We have 19 girls all working hard every day to make themselves better, push each other to become better, supporting each other," said Ruttle.
The team has set very high goals for itself and is so far on its way to accomplishing them. Sophomore outside hitter Aly Brecht said the team's expectations are to simply "win the GLIAC."
The Bulldogs hope to have continued contribution and hard work from everyone as the season progresses.
Ruttle is pleased with how well the team is playing as a unit.
"Our team is the true definition of the word team," said Ruttle.
Ferris looks to keep its winning streak intact as the Bulldogs take on nationally ranked Grand Valley State on Sept. 15. Grand Valley is 5-5 overall and 1-1 in the GLIAC, following a 3-1 loss to Wayne State.