Eric Lilleboe shot a school record 14-under par to lead the Bulldogs to a first place finish
Senior Eric Lilleboe recorded a school-record 14-under par in the Saginaw Valley State Al Watrous Memorial Intercollegiate Invitational last weekend.
Lilleboe's three round total of 202 was seven shots better than the previous record of 209 strokes. Jim Lusk previously held the record, which had stood since 1998. The first place finish marked the fourth in Lilleboe's Bulldog career.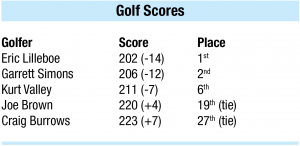 The men's golf team opened the 2009-2010 season with a nine shot victory over Grand Valley State. Ferris as a team was 27-under par for the tournament and Grand Valley was 18-under par. There was a big gap between the top two teams as no other teams were under par. Host Saginaw Valley State finished in third place with a 1-over par.
Prior to the tournament, the Bulldogs were ranked in a tie for 17th nationally in the Division II Golf World/NIKE Golf poll.
The team will compete next on Sept. 20 at the NCAA-II Midwest Region Tournament in South Haven, Mich. It is the first of three regional tournaments throughout the course of the season.