Dimas tries make some noise for the women's tennis team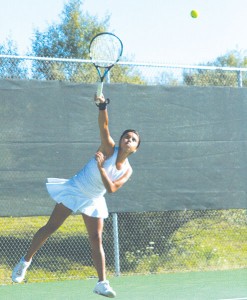 Following an injury-riddled season, Daniela Dimas is looking to stay healthy in her senior year.
Dimas, the lone senior on the Ferris State women's tennis team, spent last season dealing with a back injury that kept her out for most of the season.
"It was really tough because I really wanted to go out and help out my team," said Dimas. "I thought I wasn't going to be able to play at all and then I was told I could, but they changed their minds."
Besides dealing with injuries through her career, Dimas has also had the task of adjusting to a new culture. Dimas, who is from Mexico City, Mexico, had to deal with the obvious language and cultural differences, but also had to adjust from life in Mexico City to life in Big Rapids.
"I'm from a big city that's pretty crowded. I'm used to being in a car all day just to get anywhere," said Dimas, "Big Rapids is obviously a little less crowded."
Head women's tennis coach Alex Palladino is also hoping she bounces back and has a good year after the struggles she has had to overcome.
"Daniela is somewhat of a mystery for our team," said Palladino. "She had to deal with those injuries and now she's finally healthy. She could really help make this team better this year."
Though Dimas had to deal with various issues last year, she started this season with some confidence by winning both her singles and doubles matches at a contest at Saginaw Valley State on Sept. 12, 2008.
"I was really nervous going into my first match, but my confidence improved through the match. Winning the match showed me that I can still win and I think it will carry through the season," said Dimas.
With a new-found confidence in her game, Dimas hopes that she can enjoy her senior season, as well as be successful.
"I've got nothing to lose this year, especially after last year. I just want to enjoy my senior season and win as many matches as I can," said Dimas.