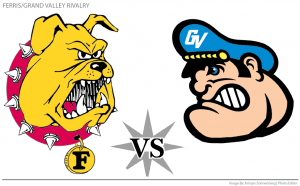 The Ferris State/Grand Valley State football rivalry has seen its share of winning streaks, but has been one sided this decade.
Grand Valley currently is on an eight game winning streak that started in 2000, with the closest game in this decade being a 20-21 loss during the 2000 season. Last year, the Bulldogs lost to Grand Valley 31-13 in Allendale. Grand Valley leads the all-time series with a 24-12-1 advantage.
Despite being behind overall in the most recent figures, Ferris State has enjoyed some success in the past.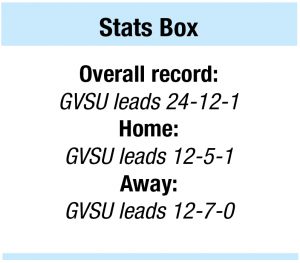 Ferris won the first ever meeting between the two teams with a lopsided 57-0 win during the 1971 season. Ferris continued its dominance during the 1970s by posting a 7-3 record during the decade.
Following their dominance of the series in the 1970s, Ferris State was on the losing side of the rivalry during the 1980s. Grand Valley dominated the decade with a 9-1 record against the Bulldogs. Ferris State had trouble with most teams during the 1980s as the Bulldogs only posted one winning record that decade with a 6-4 season in 1985.
The Bulldogs enjoyed their most successful streak against the Lakers during a span from 1992-1995, with a 3-0-1 record against Grand Valley with the one tie during the 1993 season.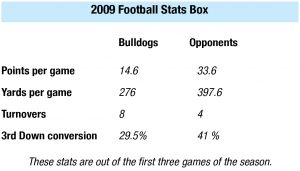 The series became slightly more balanced during the 1990s with Ferris posting a 4-5-1 record against Grand Valley.
This decade has belonged to Grand Valley, with Ferris State losing all eight contests. Though the Bulldogs had only two losing seasons this decade, Grand Valley has been a troublesome team for the Bulldogs to face.
The Bulldogs will have the opportunity to end Grand Valley's current streak at Top Taggart Field on Sept. 19 at 7:00 p.m.