Project Runway uses newspaper in tomorrow's episode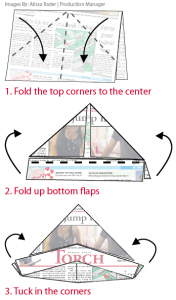 Project Runway on Bravo has made a habit of challenging up-and-coming designers with complicated material to create high-end fashion.
Tomorrow's episode charge's the cast with making clothes out of newspaper. With the often sour financial state of the newspaper industry and the need for clothes, the Torch has provided this step-by-step guide to using your paper for something other than reading. In the word's of the show's host, Tim Gunn, "Make it work."
Think you've got the best hat of them all? Send your photos in to ferris.edu/torch for a chance to have them printed and published online.