Men's club volleyball team has held tryouts and is set for a new season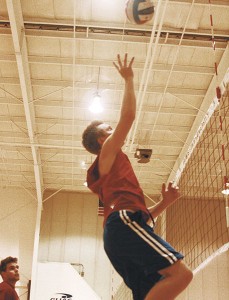 After not competing against other schools last year, the men's club volleyball team is back and ready to begin the 2009 season.
In 2008, the club volleyball team did not even play. The team never got started and was unable to work out tryout and scheduling issues. Team president Brian Stohl said the team has been in existence less than five years.
"Last year nothing got started, but we had been going for three years before then," said Stohl.
Stohl, a sophomore, has been playing volleyball since he was 12 years old. He is from Parker, Colo., where he won three state championships at Chaparral High School.
The team conducted two tryout sessions over the past week at the volleyball arena in the sports complex. Co-captain and advisor, Justin Scheidt, said the team will have between 18 and 20 players this season. The team will be split into an A team and B team, with nine or 10 players on each squad.
Club sports at Ferris are on a "pay to play" basis. Each member of the club volleyball team has to pay $100, which goes toward the cost of jerseys, equipment, and tournament fees.
The players on the team vary in height, ability, experience and age. Justin Scheidt, co-captain and advisor, said the team definitely has potential and he is excited about the upcoming season. He is eligible to play on the team this year also.
"I still have one year of eligibility somehow, so I'm going to play this year and help them," said Scheidt.
Scheidt is in his second year as a geography professor at Ferris. He brings experience from the Division I level as he played for the University of Florida for three years and Michigan State University for two years. He also brings coaching experience to the team as well.
"I was the head coach at Great Lakes Christian College for two years before I came here," said Scheidt.
The team has practiced at both the University Recreation (UREC) facility and at the volleyball arena in the sports complex this year. The tryouts were held in the sports complex and Scheidt is hoping the team will be able to play in the volleyball arena permanently.
"We hope to be here," said Scheidt, "we've been in the UREC, but we worked a deal where we could get this."
There is no regular season schedule for the club volleyball team. The team currently has three tournaments scheduled, two at Michigan State and one at Central Michigan, with the hope of adding one at Indiana University. The Bulldogs' first scheduled tournament is Oct. 24 in Mt. Pleasant, Mich.
Tournament Breakdown
Range from 12 to 30 teams
Broken down into groups of 4 or 5 teams
Round robin style, not single elimination
The top two from each group advance
The Bulldogs play against schools such as Michigan State, Ohio State Central Michigan and Grand Valley State among others