Men's tennis team looks to veterans to lead team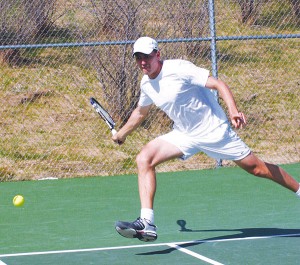 The men's tennis team will rely on their veterans to set the tone for the 2009-2010 season.
The team will look to build off a 14-8 overall record from last season and an unexpected run in the NCAA Division II Tournament, where the team upset rival Grand Valley State in the first round. The Bulldogs lost to nationally ranked Northwood in the Midwest Regional Final.
This season, the team will look to a mix of veterans and younger players to help carry the momentum from last season's tournament run.
"We're really close to breaking back into the top 40 national ranking and the top 32 finish last spring should strengthen our case," said Alex Palladino, head coach of the men's and women's teams.
"We recognize the high level of competition in our conference, however, and really need to prepare for some tough challenges from our conference foes," said Palladino.
Palladino will look to his experienced players to lead the team this season.
"We have a nice mix of ages on this year's team, and we have several veterans we will rely on to set the tone," said Palladino, "I think seniors Ahmet Demir and Kyle Revall will use their experience to anchor our team."
Among the younger players, returning sophomore Jack Swan, who was last year's team MVP and was an All-GLIAC second team selection, will be someone the team will rely on to build off last season.
"Jack Swan had an outstanding season for us in the third singles position last season. With a year of college competition under his belt, he could really make a move for us this season," said Palladino.
Another player Palladino will be looking to produce will be sophomore Justin Hermes, who was named Most Improved Player last season and was an All-GLIAC honorable mention.
"Justin Hermes had some outstanding performances for us last year, including the clinching victory in the first round of the tournament," said Palladino.
Palladino said he is also excited about the development of freshman Arin Enge and junior transfer Steven Roberts.
The team will begin the 2009-2010 season at the ITA Midwest Regional Championships Sept. 25-27 in Midland, Mich. It is the only competition the team will take part in until Feb. 25. With such a gap in matches, Palladino is looking for a way to keep his players working towards improvement.
"It is challenging for the players to maintain the patience necessary to perform well when we pick back up in the spring," said Palladino. "It gives us time, however, to work on our skills and develop doubles pairings."
Palladino said the limited fall schedule allows him to focus on the women's team and gives him time to manage the development of the men's team.