The Bulldogs lost 17-10 to No. 1 Grand Valley in gridiron battle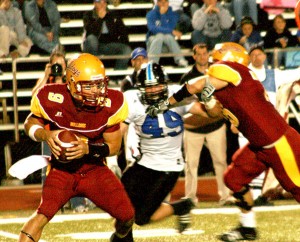 Ferris fought tooth and nail for 60 minutes, but came up short against No.1 ranked Grand Valley State, 17-10.
With the loss, Ferris falls to 1-3 overall and 0-3 in the conference. However, Head coach Jeff Pierce is happy that the team played as hard as they did against Grand Valley.
"It's disappointing, but I am very proud. We fought hard until the end," said Pierce.
Even though the defense gave up 400 total yards, it made big plays when needed and held the talented Laker offense to only ten points in the first half. Grand Valley had the ball inside the Bulldogs' ten-yard line on three separate occasions in the first half, but scored only ten points.
The Bulldog defense used many different schemes, which enabled them to keep Grand Valley off balance. The Bulldog's cornerbacks were tested on several occasions as the Lakers threw the ball deep. Each time, however, the secondary answered the call, as Grand Valley was never able to connect on a big play.
"We just wanted to keep them off guard as much as possible," said Pierce.
In the first half, the Bulldogs had a tough time keeping the offense on the field, as Grand Valley possessed the ball for 20:11, to just 9:49 for the Bulldogs.
Ferris kept its upset hopes alive as Tyler Thomas tied the game 10-10, with a two-yard touchdown run with 12:44 left in the fourth quarter.
In the end, it was not enough as Grand Valley scored the go-ahead touchdown on a nine-yard pass with 4:13 left, which proved to be the game winner.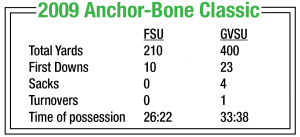 Sophomore D.J. Freeman ran for 70 yards on 11 carries to pace the Bulldog offense. Freeman thought the Bulldogs should have come away with a victory.
"We definitely feel like we let one get away," said Freeman.
One of the reasons why Ferris was so competitive is that they were able to eliminate special teams mistakes and turnovers, which have haunted them in the past.
The Bulldogs will be looking to get back on track as they travel to the Upper Peninsula for their next contest against Northern Michigan University. Northern Michigan is 2-1 in the conference after a 48-16 rout of Michigan Tech on Saturday.
Last season, Ferris defeated Northern Michigan 31-24 at Top Taggart Field. The Bulldogs lead the all-time series 16-13-6. Pierce said he believes the team will get better as the season continues.
"We made huge strides from last week and we will continue to improve," said Pierce.