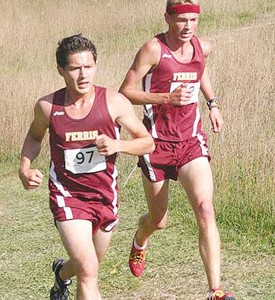 Both the men's and women's cross country teams had strong performances at the lone home meet this season.
The women's team took eight of the nine top individual places and the men's team matched that pace by scoring eight of the top 10 runners in its meet.
"I feel pretty good about our effort today from both teams," said Coach Steve Picucci, "It's really early in the year, so I'm not really worried about times; I'm more focused on effort at this point."
Leading the women's team was junior Tina Muir, who convincingly won the women's 5K event with a time of 18 minutes, 4.74 seconds.
"Tina's our number one runner for our women, she really helps set the pace for the team," said Picucci.
The women's team had solid performances from its freshman runners. Anna Ruud placed second (18:49.39), Shelby Janutol came in third (19:35.90), Alyssa Osika captured fourth (19:37.76), Jordan McGuire finished seventh (20:24.66), and Felicia Peacock placed eighth (20:27.79).
"Our younger girls are really starting to run well right now," said Picucci, "It really helps having them come in as freshman and making a difference for our team right now."
The Bulldogs also had two juniors placing in the top nine, with Paige Onweller placing sixth (20:09.03) and Sarah Creed coming in ninth (20:30.54).
The men's team claimed 10 of the top 13 finishes in its 8K meet. The Bulldogs were lead by senior Curtis Begley, who finished in second place (26:24.59). Sophomore Tyler Crossman followed with a third place finish (27:10.31).
Junior Alex Best placed fifth (27:27.33), junior Derek Childs came in sixth (27:51.65), sophomore Steve Neshkoff followed in seventh (27:51.89), freshman Ryan Chute took eighth (28:03.60), senior Brian Reynolds was ninth (28:08.88) and freshman Josh Kyser claimed tenth place (28:09.70).
"Both the younger guys and the older guys did well for us today. I was pretty happy with all the guys and the performance they had," said Picucci.
This year, The Bulldog Invitational was renamed to honor former coach Ray Helsing, who led cross country and track and field at Ferris from 1968-82. Helsing was also inducted into the Bulldog Athletics Hall of Fame in 2001.Helsing also coached more All-Americans than any coach in Ferris State history. This year also was the 34th running of the Bulldog Invitational, which first started in 1971 and was later restarted in 1976.
Both the men and women cross country teams are next scheduled to participate in the Wisconsin-Parkside Lucian Rosa Open on Oct. 10, in Kenosha, Wis.