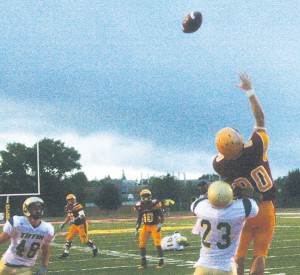 The Bulldog football team will look to end its losing streak this weekend at the Battle at the Ballpark.
The Battle at the Ballpark will pit two struggling teams against each other in Ferris and Michigan Tech. Ferris limps into the matchup having lost four straight games. The Bulldogs are coming off a shutout loss at the hands of Northern Michigan, 34-0.
After starting the season with a convincing win against Tiffin, the Bulldogs have stumbled to a 1-4 record and have been on the wrong side of some lopsided losses, with the 17-10 loss against Grand Valley State being the closest the Bulldogs have been to a win in the last four weeks.
Ferris will look to improve its defensive performance going into this week, as the defense has allowed an average of 396 yards per game and has given up 66 first quarter points in just five games. The defense has also allowed an average of 30.4 points per game this year.
The special teams have also been a weak area for the Bulldogs this season, especially in the punting game, where Ferris has had four blocked kicks this season.
The offense ranks 11th out of 12 teams in points per game in the Great Lakes Intercollegiate Athletic Conference (GLIAC) this season. The rushing attack has averaged just three yards per carry, while the Bulldogs' passing game has scored only two touchdowns this season.
Michigan Tech enters the game with its own struggles, not having won a game this season and coming off a lopsided loss at home against Grand Valley State, 55-7. All four of their games have come against the top seven teams in the conference.
A key to this weekend's game could be the rushing game, where both teams have allowed 5.3 yards a carry this season. The team that limits the damage in the rushing attack could control the clock and set the tempo of the game.
Although scoring early is always a goal in football, it could be especially important in this week's game, as both teams have allowed at least 50 first quarter points this season. Michigan Tech has allowed the second most points in the GLIAC, while the Bulldogs have scored the second fewest.
Previous records may play a big part in the outcome of the game. Michigan Tech enters the game with a 31-24-4 lead in the overall series and has defeated Ferris six straight times. The Bulldogs lost 21-7 last season in Houghton, Mich.