Ferris student chosen to test drive new Ford Fiesta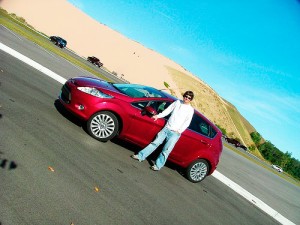 Bryan Redeker has been interested in cars his entire life and didn't blink twice at the opportunity to test drive a brand new Ford Fiesta for six months.
Redeker was one of 100 people chosen out of over 4,000 applicants to take part in the Ford Fiesta Movement, a six month social media campaign designed to raise excitement about the new Ford Fiesta, which will hit American markets early next year.
Redeker will travel as an "agent" participating in special monthly "missions" where he will catalogs his experiences and post them on various social networks.
Bryan is currently a product design engineering student at Ferris and works as a designer for Haldex. He says, "The new Ford Fiesta is an amazing car and I am delighted to be part of its introduction to the U.S. market."
[PullQuote1 quote="Automotive enthusiast is probably the simplest way to describe my love affair with the cars" author="" title=""]
The Fiesta itself is a four-cylinder, fuel-efficient, four-door, subcompact hatchback based on the concept of the Ford Verve.
The styling and architecture of the Fiesta is modeled from Europe's Mazda2 and is expected to rival such cars as the Honda Fit and the Toyota Yaris.
The Fiesta has already become popular in both Europe and Asia and recently, the Fiesta overtook the Volkswagen Golf as Europe's most popular model.
Early projections expect the U.S. Fiesta's fuel economy numbers to be around 31/39 city/highway miles per gallon.
"Automotive enthusiast is probably the simplest way to describe my love affair with the cars," said Redeker on his Fiesta Movement agent profile. "I came home from the hospital in a Mustang when I was born, and have been modifying and racing anything with 4 wheels ever since."
"I grew up going to race tracks and car shows," said Redeker. "Growing up my dad always had a collection of Mustangs and our family friends were all into cars as a hobby."
He bought his first car when he was 15, "a rusty four-cylinder, automatic 1984 Mustang," which, with the help of his younger brother, Brandon, he transformed into a racecar.
Bryan first became interested in European Fords when the Focus was first introduced almost a decade ago. He ordered one in the fall of 1999, and he and his brother modified that car for track use and used it for autocrossing and high-speed track events.
The first "mission" that Bryan took the Fiesta on, was a road trip to Southern Indiana for the SAAC Spring Fling Car Show where he entered the Fiesta to help Ford gain exposure for the Fiesta.
He says that he and wife, Sara, take road trips whenever possible. Bryan and his brother also have raced the Fiesta with the Furrin Group at autocrosses and taken it to GingerMan Raceway for high speed track testing.
For information about the Fiesta visit fiestamovement.com where Bryan's agent profile can be viewed. His various missions with his Fiesta can be followed on Facebook, Twitter, YouTube, and MySpace.