The Bulldogs look to improve on poor finish from a season ago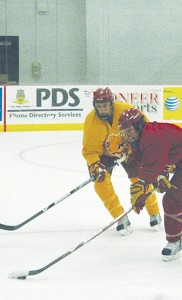 The Bulldogs head into the 2009-2010 season with 21 returning letterwinners from last year.
Ferris finished the 2008-2009 season with five losses in its final six regular season contests. In the Central Collegiate Hockey Association (CCHA) playoffs, the Bulldogs were swept by the University of Nebraska-Omaha on the road in a first round exit.
This season, the Bulldogs will lean on the experience of their defense to carry the team. The defense finished fifth in the CCHA in goals allowed a year ago and seven of the eight defensemen have returned. The unit is so deep that head coach Bob Daniels believes he will have trouble deciding which players to dress.
"I think it is going be a real headache for me though," said Daniels, "I can already see real issues in trying to decide the six defensemen dressing."
Goals allowed are not measured solely by the defensive play, but by goaltending as well. Daniels said that the goalie position is still a question mark in terms of who will be the starter on opening night. Daniels would like the goaltending to improve this season.
"It was adequate for our team," said Daniels. "We want to be a championship team, but we need championship goaltending."
Junior Pat Nagle started 22 of the team's 38 games last season and had a 2.29 goals against average (GAA) in conference play. Sophomore Taylor Nelson started 16 games and recorded a 2.39 GAA, while senior Jordan Barber did not appear in any contests. Regardless of who starts, Daniels said he wants one of them to step up into the starting role.
"I'd to see one of them really step up, if not both, and make a run at CCHA goalie of the year," said Daniels.
The offense is the biggest question mark for the team, according to Daniels. A season ago, the Bulldogs ranked 10th in the CCHA in goals scored. The offense was experienced last year and was supposed to carry the team.
"Last year I thought going in the strength of our team was going to be our offense," said Daniels.
Ferris lost three of its top seven point-scorers from last season, including Brendan Connolly, who led all players with 28 points. There are, however, many players on the roster that had lower goals and assists last season than the previous year.
"The good news is, within our locker room, we have guys that have had good years," said Daniels, "they just didn't have them last year."
Daniels said there is a possibility of moving a defenseman to forward on a given night if the offense needs some help.
"I'm not going to limit myself to keeping guys in the stands if we can find a way that they could help us," said Daniels.
Senior center Cody Chupp will serve as the team captain for the second consecutive season. Daniels said that Chupp is a good student, a mature player, and an extremely hard worker. Assistant captains have not been selected, but Daniels said he will announce them during the season.
Ferris begins the 2009-2010 season with an exhibition game against Wilfred Laurier on Oct. 4 at 2:00 p.m. in Ewigleben Ice Arena.