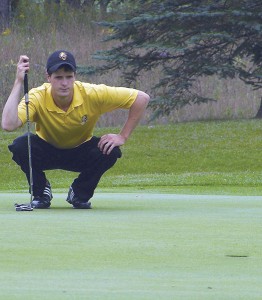 Senior Eric Lilleboe is currently ranked No.1 in the Division II Golfstat Cup Standings and No.2 across all divisions nationally.
In the first three tournaments of the year, Lilleboe has proven how talented he is on the golf course. In the Bulldog's first tournament at Saginaw Valley State, Lilleboe led Ferris to a victory as he shattered the previous course record by four strokes as he shot a school-record 14-under par.
"It really wasn't anything amazing, I just saw every putt, and the few mistakes I made ended up in a very playable spot," said Lilleboe.
He followed that with a second place finish at six-under par at the Great Lakes Region Tournament in South Haven, Mich. Even with that respectable outing, he was disappointed with the end result, as the Bulldogs finished second overall.
"We have set such high expectations for ourselves as a team, we do get disappointed if we place only second," said Lilleboe.
In the team's last tournament, the Ferris State Matt Pinter Invitational, Lilleboe took top honors yet again with a three- round score of 210. He has yet to finish outside the top two in any event this season.
There is no secret to the reason behind his and the Bulldogs' early success: hard work. The team practices four days a week and has 7 a.m. workouts two days a week.
[PullQuote1 quote="There are no limits this year." author="Eric Lilleboe" title="Ferris State Senior"]
Lilleboe will have to keep practice and his great play going if he hopes to achieve his dream of turning professional after graduation. He will apply to a qualifying school in which there are approximately 200 golfers and only 25 will make it to the PGA.
He was only eleven when he started going to the driving range with his dad, who was an avid golfer. Apparently, Lilleboe paid close attention. His love of the game and motivation to succeed has led to back-to-back Great Lakes Intercollegiate Athletic Conference Men's Golf Athlete of the Week honors.
As of now, Lilleboe is not concerned about his personal success. He wants to see the Ferris State Bulldogs win a national title. This season the Bulldogs have finished first twice and second once through their first three tournaments.
"There are no limits on this team and there is no reason we cannot win Nationals," said Lilleboe.