Tailgating brings people together before the game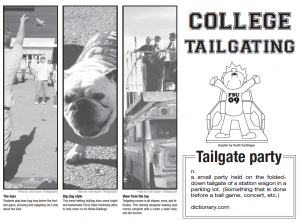 Tailgating goes back for over a hundred years with no sign of stopping soon.
According to tailgating.com, tailgating was first started in 1869 when the first college football game between the Rutgers and Princeton.
Tailgating often thought of as a way to support a team and and socialize with other fans has progressed since the 19th century into a veritable tradition.
FSU student, Jen Likowski, said "Tailgating is fun because you can relax, hang out with friends all day, enjoy great food and beverages of any choice, and then of course, there is the football."
Tailgating is the celebration in the parking lot, and the commissioner of tailgating knows it, because he created it.
Joe Cahn, not your average Joe, is the commissioner of tailgating. He sold his house and his New Orleans cooking school, bought a motor home and "hit the road to explore what he calls 'the new American community—tailgate parties,' according to tailgating.com.
"It's the last great American neighborhood—the tailgating neighborhood—where no one locks their doors, everyone is happy to see you and all are together sharing fun, food and football. It's the families.  It's the fans.  It's a community social.  It's pre-game, halftime, post-game and more.  It's the total game day experience," said Cahn on tailgating.com
Cahn is credited as the world's only professional tailgater.
[PullQuote1 quote="It's the last great American neighborhood – the tailgating neighborhood – where no one locks their doors, everyone is happy to see you and all are together sharing fun, food and football" author="Joe Cahn" title="Commissioner of Tailgating"]
"During his Tailgating America Tours he has used 83, 397 gallons of gas to travel to all 31 NFL stadiums, over 123 college stadiums, and nine NASCAR tracks, tailgated with hundreds of thousands of people and served more than 326 pots of Jambalaya."
Food being one of the most important aspects of tailgating, parties have a variety of ranging from hot dogs to burgers and ribs.
Food is contributory to the atmosphere, in additon to games like ladder ball and bean bag toss. There are some rules regarding moderation and the amount of space one is allowed to utilize. For that list pertaining to Ferris, consult the student policy handbook, or just look at the copy below.
Football Tailgate Policy
Tailgating (with and without alcohol) is permitted three hours prior to the game and at half time only. Game attendees are expected to behave in a responsible and civil manner at all times.
Tailgating (with alcohol) is permitted in the following parking lots only: Lots 35, 36 and 37 (lots immediately west of the stadium).
Glass containers, kegs and common alcohol containers are prohibited.
Consumption of alcohol is prohibited when use or possession creates a danger to self or others.
Drinking games and devices that promote binge drinking are prohibited. All such items will be confiscated and destroyed.
Underage drinking is not permitted; all local and state laws must be obeyed.
Parking Lots 3, 35, 36 and 37 will be utilized for game parking; a fee for parking will be charged. Lots 27, 41, and 33 will be utilized for overflow traffic and a fee for parking will be charged, for those attending the football game. Lot 17 is reserved for individuals utilizing the Student Recreation Center.
Entrance to parking lots will be allowed three hours prior to the game start time.
Parking spaces will not be allowed to be reserved; vehicles will be parked as they arrive on a first-come, first serve basis. Vehicles may not be parked in a fashion that obstructs the free flow of vehicular and pedestrian traffic.
A vehicle must occupy a parking space; grills, tables, furniture and other items are permitted as long as they are of size to occupy the same space.
Oversized vehicles that require more then one space will be charged accordingly.
Only tents authorized by the Athletic Director will be allowed.
REMINDER: It is risky to serve alcoholic beverages to anyone other than yourself and your immediate party. Michigan law requires a license before a person can sell, trade or give away alcoholic beverages. A violation of this law is a felony. A social host does not need a license to serve his/her invited guests who fall within the usual understanding of friends and personal visitors. A social host may be legally and civilly liable to guests and others for injuries resulting from serving alcohol, especially to a minor.