A parade and other festivities are planned to celebrate homecoming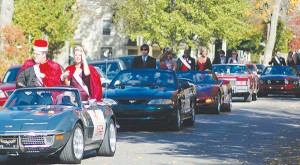 This year's homecoming theme is "heroes." Homecoming Heroes 2009: Saving the World Since 1884.
Homecoming is the week of Oct. 4 through Oct. 10. Activities will be going on each day.
Teresa Fogel, Student Activities Assistant of the Office of Student Leadership and Activities, said "The bonfire has disappeared for years, but we are bringing it back this time."
She also said we have a new activity this year, the Ferris Best Comic Competition. The auditions will take place on Wednesday, Sept. 30 at 8:30 p.m. in Rankin 155. The top three winners of the auditions will perform at the Lip Sync contest, and the winner of that will open for Last Comic Standing's Iliza Shlesinger. Shlesinger's show is $3 for students and $5 for non-students as allocated by the Student Homecoming Committee, Entertainment Unlimited, and the Finance Division.
For more information on the events and auditions, contact Fogel at fogelt@nullferris.edu or x5936.