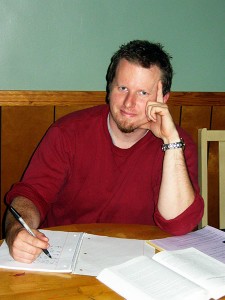 Jared Crockett, a full-time Ferris student and Big Rapids citizen, has recently decided to try his hand at local politics.
Crockett, 33, decided to challenge incumbent Mark Warba in the mayoral election that will take place late in November. Crockett has never ran for office before, but said that he wanted to bring together the Ferris and Big Rapids communities.
"This town would be nothing without the students, and the students would have nothing if the people who lived here didn't work at the place that they want to go to," said Crockett.
Crockett is a public relations major at Ferris and a bartender at Applebee's. He has lived in Big Rapids for the majority of his life, providing him with a knowledge of the people of the area.
"I'd like to think that so many people know me that people will swing by my house and tell me about their problems," said Crockett.
He cited the fact that with the recent presidential election last November, around 2,000 new students registered to vote in Big Rapids and would be eligible to vote in this election as well. He plans on reaching out to the Ferris community to get registered students to vote in the election. He recently visited the local establishment Different by Design to acquire campaign paraphernalia.
"I really don't know how to get students to care about city issues," said Crockett.
Some of the points that he mentioned in a recent interview that he wants to concentrate on include allowing sorority houses within the city, improving off campus student housing, and allowing fraternities to display their letters on the outside of their house.
Crockett was very pragmatic about his chances. Warba, the current mayor, is an attorney and has served one term as Big Rapids mayor. In the previous election, Warba won with a total of 690 votes.
[PullQuote1 quote="If you have a problem, swing by. You don't have to go to a city council meeting, just come by my house on a Sunday when I'm watching the (Detroit) Lions." author="Jared Crockett" title="FSU Student and Big Rapids Mayoral Candidate"]
"I'm the underdog…but I'm going to give it my all…I'm ready for it. I'm just enough in the public eye where people can talk to me," said Crockett.
Being someone who has not been previously involved in politics, Crockett wants to come off as not intimidating and someone who is available at any time to be reached about city problems.
"If you have a problem, swing by. You don't have to go to a city council meeting, just come by my house on a Sunday when I'm watching the [Detroit] Lions," said Crockett.
When discussing the possibilities of doing a mayoral debate, Crockett said he would be interested, but was unsure of what the turnout would be.
He also said that with Ferris celebrating its 125th anniversary this year, being the first Ferris student to be elected mayor would make it all that much more exciting.
Although he discussed a variety of issues both city and student related, Crockett mainly stressed his desire of uniting the Big Rapids and Ferris communities.
"My slogan is…one city, one university, one community," said Crockett.