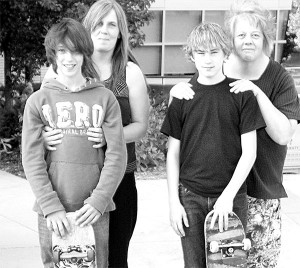 The possibility of a skate park in Big Rapids is still rolling.
After several city commission meetings and plans with the City of Big Rapids' Recreation Department, mothers Cyndi Burnett and Laura Hinkle plan to begin fundraising for the city's first skate park.
The City of Big Rapids, local business owners, and skaters stand behind the idea that started one year ago. Burnett and Hinkle devised skate park plans after their teenage sons Dan Burnett, 14 and Tyler Hinkle, 13, were repeatedly stopped by city and Ferris State University police for skate boarding.
Skate boarders, along with BMX bikers, are prohibited from riding on the city sidewalks, parks, and the FSU campus, which has had a ban on skate boarding since 1991.
"Big Rapids has tons of skate boarders with no outlet for fun," said Burnett. "These kids need a legitimate place to go without getting into trouble."
The Skate Park is estimated to cost between $150,000 to $200,000 for construction, equipment, and labor. Although the city has donated land for this project, the economic recession hinders the city in providing funds for the Skate Park project.
Burnett and Hinkle plan to have several fundraisers, including a coupon book to be sold in the next coming weeks.
"We hope to raise $50,000 on our own so we get more financial support", said Hinkle. "If we can get more community support, we can begin the grant process."
Jill Buse, city recreation director, will be setting a fundraising account for the project during the first week of October.
The Tony Hawk Foundation (THF), which provides up to $25,000 of grant money for public skate parks for low-income areas, is one of the grants the mothers are considering. As of August 2009, THF has 450 grant proposals, so it is urgent that the Big Rapids Skate Park receives community involvement. The mothers want to encourage residents, students, and local business owners to donate funds, time, and labor for this project.
The American Ramp Company (ARC) is the primary company the mothers plan to use for blueprint designs and equipment. ARC, which has been creating skate parks worldwide for 20 years, has several products that provide professional and durable skate park equipment and designs. Although Burnett and Hinkle are unsure what the park size and equipment will be, they are sure that the park will be multi-functional for BMX bikers and roller bladers.
The Skate Park is expected to be located near the River Walk on River Street, but location plans are not yet confirmed. The park plans to operate like other local parks and will be closed at night.
For more information about the Skate Park or donations, contact Cyndi Burnett or Laura Hinkle at brskatepark@nullyahoo.com.