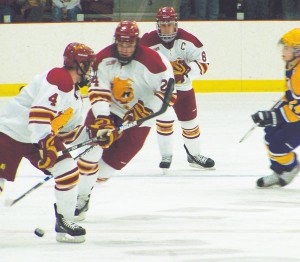 The Bulldog hockey team lost its lone exhibition game 3-1 to Wilfred Laurier University on Sunday.
Ferris did not play all of its usual starters. One of the Bulldogs' top lines, which includes Casey Haines, Aaron Lewicki and Mike Embach, did not see any ice time. Head coach Bob Daniels said that he wanted to play all of the freshman and other young players as much as possible and that the line will definitely play in the regular season opener.
The Wilfred Laurier Golden Hawks, based out of Waterloo, Ontario, Canada, opened the scoring less than four minutes into the game and the Bulldogs trailed 2-0 after the first period. Ferris and Wilfred Laurier each scored in the second period, to finish the period at a score of 3-1.
Though the Bulldogs outshot the Golden Hawks 56 to 26, Ferris managed just a single goal. Daniels said the team needs to improve on getting more goals with such a high number of scoring opportunities.
"One of our biggest concerns is a high shot total with a minimal goal total," said Daniels.
All three of the goaltenders played during the game. Senior Jordan Barber allowed two goals on 11 shots in the first period. Junior Pat Nagle played the entire second period, surrendering one goal of the nine shots he faced. Sophomore Taylor Nelson was the only goaltender to not allow a goal, stopping all six shots he faced in the third period.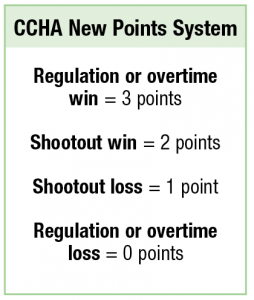 Daniels is unsure of who will start on Friday in the regular season opener.
"We will probably split Nagle and Nelson this weekend, as long as they both practice well this week," said Daniels.
Ferris was penalized five times during the game and did not allow any goals while shorthanded. However, the Bulldogs did not capitalize on any of their power play chances either. Daniels said the team has not worked on the power play or the penalty kill yet this year due to limited ice time.
The freshmen all played considerable minutes throughout the game. Senior forward Blair Riley said the freshmen have all worked hard in the preseason and seem to fit the team nicely.
The Bulldogs open the regular season with a trip to Buffalo, NY for two games against Canisius College. A season ago, Ferris opened the regular season with two home games against the Canisius Griffins, in which each team garnered one win. The Griffins finished fifth in the Atlantic Hockey Association last season with a 12-12-4 record in conference play.