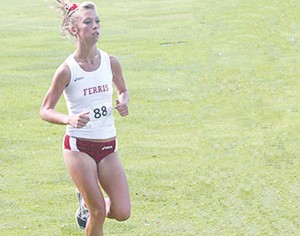 Freshman cross country runner Anna Rudd is enjoying a successful start to her collegiate career.
Rudd, originally from Leslie, has gotten off to a hot start for the Bulldogs, as she has placed in the top 15 in each race this season. Rudd's impressive start also earned her the GLIAC Women's Cross Country Runner of the Week honors last week.
Rudd had her best finish this season at the Ray Helsing Bulldog Invitational, where she took second place overall. Rudd also placed sixth overall at the Division II Pre-National Invitational in Evansville, Ind.
As a freshman, Rudd has provided a boost to the cross country team and has exceeded even her own expectations.
"It's definitely been a surprise," said Rudd, "I'm just grateful that I can step in and get points for my team at such an early stage in my career."
Although Rudd has had a successful start to her career, she has had to deal with the adjustments from running in high school to running against collegiate competition. Rudd has had to adjust to more intense workouts and a longer distance of 6K, instead of the 5K she ran in high school.
Besides adapting to the difficulties of college athletics, Rudd is also dealing with adjusting to her first year in college.
"My adjustment has been pretty smooth so far," said Rudd, "My classes are a lot different from what I'm used to and so are the athletics."
Rudd says that it will just take time to get used to being a collegiate student athlete.
"But, even though balancing classes and running is hard at times, I'm sure I'll get used to it," said Rudd.
Even with all of the changes she has dealt with, Rudd knows that if she can keep performing at a high level, she will be able to continue to be successful for the Bulldogs.
"This hot start has really given me some confidence early in my career," said Rudd. "It's important for me to keep running at the level I'm at now, but I also have to keep improving on where I'm at right now."