The women's tennis team tries to end losing ways with Grand Valley up next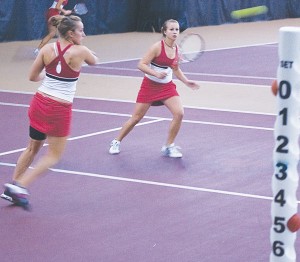 The women's tennis team split its two home matches this past weekend.
Entering the weekend, the Bulldogs had lost two straight matches and were looking to get back to their winning ways after winning their first two matches of the season.
Ferris began the weekend with a decisive 8-1 victory over the University of Findlay.
The Bulldogs dominated Findlay in both the singles and doubles matches, with the only loss coming in the singles competition.
Junior Amy Ingle led the way with an opening match win for Ferris, winning 6-3, 6-2 in straight sets.
Senior Daniela Dimas and sophomore Melissa Flowers posted victories in singles competition, with both winning their matches in straight set shutouts.
Sophomore Natalie Diorio had the only loss for Ferris in singles play, with a 6-3, 7-5 loss.
In doubles competition, Ferris swept all three matches. The closest match was an 8-5 win for Tabitha Simpson and Natalie Diorio.
After starting the weekend with a win, the Bulldogs were unable to complete the home sweep as they narrowly lost to Wayne State University on Saturday 5-4.
In the singles play, both Amy Ingle and junior Tiffany Rheynard suffered losses to start the contest.
The Bulldogs responded by winning three of the final four singles matches, giving Ferris a 3-3 split in singles action.
In doubles competition, Wayne State was victorious in two of the three matchups, the only win for Ferris being an 8-4 victory from the pairing of Ingle and Rheynard.
Following this weekend's action, the Bulldogs stand at 3-3 overall and 3-3 in the Great Lakes Intercollegiate Athletic Conference (GLIAC).
Next on the schedule for Ferris is a key conference matchup at home against rival Grand Valley State on Oct. 9.
With a 3-0 record, Grand Valley is currently in second place in the GLIAC. Grand Valley plays Northwood today in a battle of the only two undefeated teams left in the conference.
Ferris currently ranks sixth in the conference and will look to end its current skid and try to gain some ground in the conference.