A 1972 issue of the Torch played a role in bringing two freshmen strangers together. They have been hand-in-hand ever since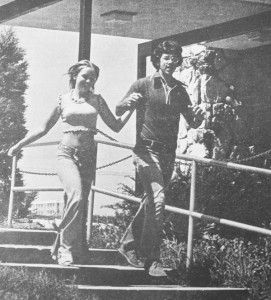 Stevie Miller, 54, and Greg Bovee, 55, were freshmen and strangers until one fateful photo lead to a romance that has lasted 37 years.
In 1972, during what was known as the "Three day Wonder" freshman orientation program at Ferris State University, Miller, health optics major, met Bovee, a pharmacy major, weeks before the fall semester. The two met for only moments in the Ward Hall cafeteria. They were in the same orientation group and had to ask each other questions.
"I saw her sitting down and just walked up to her and asked her what she was doing," said Greg.
They were then approached by a Torch newspaper photographer as they exited the cafeteria. They posed by a flight of stairs in between Ward Hall and what is now the Rock café.
Greg, who was 18 years old, recalls an immediate attraction to the 17-year-old blonde.
"There was definitely a lot of flirting during the photo shoot," said Bovee. "I liked her from the start."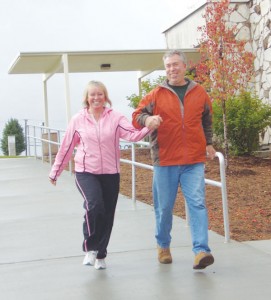 However, Stevie does not recall sparks so quickly in their relationship.
"He was just such a goofy guy," said Stevie. "But he was really nice and a gentleman."
After Greg, who lived in Henderson Hall, discovered that their photo had been published in the Torch, he looked for Stevie, Lima, Ohio native and Bond Hall resident. The two were inseparable from then on.
"I looked out the window and watched her walk away," said Greg to his roommate. "And I said to him, 'I'm going to marry that girl.'"
The lovebirds had their first date at the A&W just after the issue came out and had their first kiss near the Riverwalk. Students from 72-77, Greg and Stevie married only a year later when they were sophomores and lived in the married housing on west campus.
"He proposed Feb. 14 in Henderson Hall in his room," said Stevie "He sold his hunting rifle to buy me a ring."
They both say that they knew that there was something special between them. They were married on Nov. 24, 1973. Stevie graduated a year before Greg, and waited while he finished the pharmacy program in 1977. Although their schedules were very intense, they never felt that had made a mistake. n
The two moved to Lansing, Mich. after Greg's graduation where they both worked at Greg's family pharmacy Westside Drug. They later bought the pharmacy, changing the name to Westside Pharmacy. Although the two are retired and have sold Westside Pharmacy, Greg still works part-time at the Westside Pharmacy. They have two daughters, Angie Riley, 31, and Brooke Bovee, 28, and three grandchildren.
Although the couple was young, they still have advice for lovebirds.
"Take your time, because school is still very important." said the Bovees.