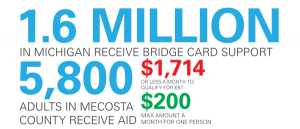 Stacy Kosik knows that living on a college budget isn't easy: tuition, books, rent, car insurance, not to mention food, are all expenses that the senior faces in college.
However, the cost of food may no longer be a problem for students who are struggling to make ends meet every month, by using the Food Assistance Program through a Michigan Bridge Card.
The Bridge Card, or Electronic Benefit Transfer, is basically a debit card issued by the Michigan Department of Human Services (DHS) which is funded by federal money.
Kosik first received her Bridge Card in June. She said her reason for applying was simple. "In the summer I did not have a job because I was interning. I decided to get the bridge card when I found out I had no money to live on for the summer."
While attending school, Kosik also works to help pay the bills and having a Bridge Card allows her to live a little easier. "I believe that if you are in school full time there is nothing wrong with a little help."
For college students, the card is mainly used as a modernized, electronic version of food stamps but can also be used for other programs as well, such as cash assistance and disability, refugee, and supplemental income benefits.
The government has been attempting to phase out the old paper food stamps from the federal Supplemental Nutrition Assistance Program (SNAP), formerly known as the Food Stamp Program, since early in the decade. As of June 2009, the federal government discontinued the use of paper food stamps.
The Bridge Card can be used for almost any unprepared food items and to purchase seeds and plants to produce food, however; alcoholic beverages, tobacco products, vitamins and hot meals ready to eat do not qualify.*
According to Gisgie Gendreau, Michigan DHS Director of Marketing and Public Relations, roughly 1.6 million people in Michigan receive government support from the Bridge Card program.
The amount of money that a student qualifies for depends solely on his or her individual income compared to expenses. Tuition, rent and utility bills can all be included in a student's expenses while loans, scholarships and work-study programs are not.
For a single person to qualify however, they must make a gross monthly income of under $1,174 (130 percent or less of poverty line). As of the beginning of the month, the maximum amount a single individual can qualify for with SNAP is $200.
Each separate program (food assistance, cash assistance, etc.) has its own specific criteria, which can only be determined by completing an application and submitting to the local DHS office.
In Mecosta County, as of August, just over 5,800 adults over the age of 18, are recipients of government aid in the FAP. A breakdown of age demographics was unavailable at the time.
However, some people are beginning to believe that many students do not actually "need" a Bridge Card and are possibly abusing the system.
Several Republican lawmakers in Lansing are calling for the Michigan Auditor General, Thomas H. McTavish, and other state lawmakers to investigate student abuse of the food and cash assistance programs and for a complete audit of the DHS Bridge Card program.
Their primary concern is that college students are using the money and benefits from the Bridge Card that they qualify for individually, while still being classified as dependents on their parents' tax forms.
Several Republican state representatives submitted a letter to McTavish calling for the auditor general to not only look into the dependency status but to also investigate reports that students are using their cards to get purchase alcohol, tobacco products, and Lotto tickets. They also believe that students may be purchasing soda, which is not allowed under FAP guidelines, in order to return the cans for money.
Junior Julia Vangheluwe may have a solution to overcoming possible student abuse of the system. "Personally, I think that everyone with a bridge card should be required to do community service.  I understand that the economy is bad, and a lot of people get bridge cards because they can't find a job, but why not be constructive and volunteer your time to help others in need?"
She has had her Bridge Card since August and says that she only uses her food assistance benefits to eat healthier meals regularly and not have to be stressed out about not having enough money to buy food. Having one less thing to worry about paying for is pretty valuable for Vangheluwe and students like her.