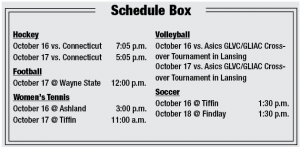 In a stunning upset, the Hillsdale Chargers football team defeated the No. 1 ranked Grand Valley State Lakers 27-24 on a last-minute touchdown.
The loss marks the first regular-season defeat for Grand Valley since a 35-14 loss to Northwood during the 2004 season. Until Saturday, that was also the last time Grand Valley lost a Great Lakes Intercollegiate Athletic Conference (GLIAC) contest.
Grand Valley has won the GLIAC title four consecutive years, from 2005 to 2008. In 2004, the last time a team other than GVSU won the championship, Northwood and Michigan Tech each finished 9-1 to claim a share of the conference title. The Lakers' shocking loss on Saturday opens the door for other teams to win the GLIAC title this year.
Hillsdale improved to 4-2 in the conference with the upset victory, but has already lost to Northwood and Findlay. Northern Michigan, Findlay and Grand Valley are each 5-1 in the GLIAC and are currently tied for the conference lead. Grand Valley hosts Findlay on Saturday in a crucial contest that could very well determine the outcome of the GLIAC this season.
While all streaks must end eventually, Ferris would like to end its current six-game losing skid. Ferris has been outscored 210 to 53 over the past six games. All hope is not lost for the Bulldogs, however. Hillsdale had not beaten GVSU since 1994, but they managed to squeak out a win this year.
On any Saturday, any team can upset another team or be upset themselves. The closest Ferris has been to winning in the past six weeks was actually the game against Grand Valley. The Bulldogs were tied 10-10 midway through the fourth quarter before conceding the game-winning touchdown with 4:13 left in the game. Ferris was just a few plays from upsetting GVSU in that game.
All four teams remaining on the Bulldogs' schedule are .500 or better. Hillsdale, Saginaw Valley State and Wayne State are all 5-2 overall and 4-2 in the conference. As history has shown, that does not mean Ferris will lose all of those games. Good teams can lose, even when they are heavily favored, on any given Saturday.