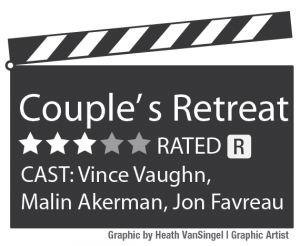 What better day than a rainy day to go see an upbeat comedy like this?
"Couple's Retreat" is a romantic comedy about four couples who go on a spontaneous trip to "Eden." Eden West is a place for couples looking to get the "spark" back into their relationships. Eden East is the other side of the island for singles looking to have a great time. These four couples signed up for Eden West, not realizing what they were getting themselves into.
As the story goes on, it shows the importance of what relationships are and how to get back into the mood of what relationships mean, something each couple lost sight of a long time ago.
The storyline is great, everyone can learn something from this movie. It made me think about some things as well. However, with stars like Vince Vaughn, Jon Favreau, and Jason Bateman, along with many other comedians playing smaller roles, I thought it was going to be more of a funny comedy than a romantic one.
FSU nursing major, Amanda Nieman, said, "I thought the movie was good; long, but good. The only thing I didn't expect was the fact that it was more of a romantic story than a funny story. It was funny, but not as funny as I expected it to be."
I have to agree, the two and a half hour long movie was drawn out and was not as funny as expected considering the number of famous comedians in the movie.
I did not waste my time or money with the movie, however. I give the movie a satisfactory rating.