The Ferris State men's golf team has lived up to the preseason hype
The Bulldog men's golf team has lived up to the expectations this season.
The team, which is currently ranked 17th in the Golf World/Nike Golf Division II Coaches' Poll, came into the season with a fair amount of hype.
The Bulldogs have met expectations so far this fall season, as they have placed in the top five of every contest they participated in this season. The team has also won two tournaments; the Ferris State Matt Pinter Invitational and the Saginaw Valley State Al Watrous Memorial Invitational. Head Coach Mike Mignano is in his third year of leading the team.
"I knew coming into this season that this would be one of the best teams in school history," said Mignano.
One of the keys to this year's success has been the experience and depth of the team, which consists of four juniors and two seniors.
"We're a very experienced team," said Mignano, "Everyone has a real sense of maturity and it has translated to how we're playing right now."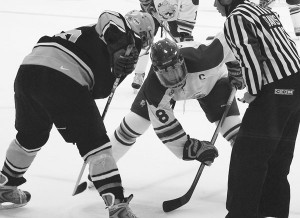 Among the veteran leaders, senior Eric Lilleboe has had an excellent season, posting three first place finishes. Lilleboe posted a school record 14-under par in the season-opening tournament at Saginaw Valley State and has been named the GLIAC Men's Golf Athlete of the Week four weeks in a row.
"Eric has obviously been playing some outstanding golf for us this year," said Mignano, "His play has really paced our team this year, but our team overall has picked their game up as well."
Senior captain Kurt Valley and junior Garrett Simons have also led the team with their strong play, as they each have two top 10 finishes this season.
Although the Bulldogs have been successful during the fall part of the 2009-2010 season, Mignano said they still need to keep working hard in order to get where they want to be.
"There's still a lot of golf left in this season and the guys know that," said Mignano, "They know that they have to keep working as hard as they have been if they want to keep competing at a high level."
Ferris concluded the fall portion of season at the Wayne State Motor City Invitational in Grosse Ile, Mich. It was the team's final tournament until the season resumes in March.