The Ferris volleyball team improved to 9-4 with a pair of victories at home this weekend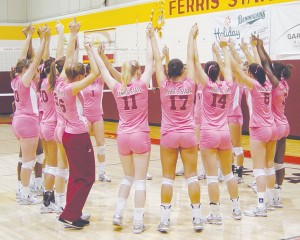 The Bulldog volleyball team sported pink jerseys on Friday night in support of Breast Cancer Awareness Month.
The Bulldogs defeated Tiffin University 3-1 in a conference match-up, but that was not the highlight of the night. Breast cancer survivor Terri Bloomquist, coordinator of veteran and athletic programs at Ferris, kicked-off the evening with an honorary first-serve. Head Coach Tia Brandel-Wilhelm presented her with a volleyball signed by the entire team.
Senior outside hitter Amanda Kettlewell enjoyed playing in pink to support the cause.
"We know we're supporting a good cause and we get to wear a fun and untraditional uniform at the same time," said Kettlewell.
Ferris won the first set 25-15 after trailing 4-1 early in the set. In the second set, Ferris and Tiffin were tied at 15 before the Bulldogs went on a 10-4 run to win the set 25-19. The only set the team dropped was the third set, 25-22.
Brandel-Wilhelm said the team was trying some different offensive strategies.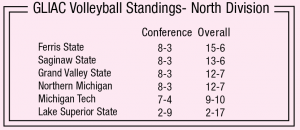 "I really don't have to tell them anything," said Brandel-Wilhelm, "They knew they needed to step it up a little bit and they did."
The Bulldogs won the fourth and final set 25-17 to earn the match victory. Redshirt freshman Samantha Fordyce led the team with 42 assists and sophomore Lisa Tobiczyk led the team with 14 digs.
On Saturday, the team got all it could handle from Ashland University. Ferris lost the first two sets by scores of 25-21 and 26-24 respectively. Down two sets, the Bulldogs fought their way back into the match with wins in the third and fourth sets, forcing a decisive fifth set. Ferris hung on to win 16-14 in the final set and 3-2 overall for the match.
"We kept our focus on the present and took every point one at a time," said Kettlewell.
Junior middle hitter Arielle Goodson recorded a match-high 19 kills and senior middle hitter Kristy Gilchrist added 15 kills. Gilchrist became the 16th player in school history to reach 1,000 kills in a career.
The Bulldog volleyball team sits atop the GLIAC North Division after the two home victories this weekend. The Bulldogs improved their overall record to 15-6, 9-4 at home this season.
This weekend, the Bulldogs head to Lansing to play in the Asics GLVC/GLIAC Crossover Tournament. The Great Lakes Valley Conference includes two nationally ranked teams: the University of Indianapolis ranked 12th and Lewis University ranked 13th. Ferris State, Hillsdale, Wayne State, and Saginaw Valley State all received votes.