Bulldogs continue losing streak with lopsided homecoming loss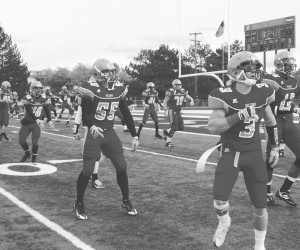 The Bulldog football team continued their slide this weekend with a lopsided loss on homecoming.
The Bulldogs lost their homecoming game to the Indianapolis Greyhounds, 34-7 and extended their losing streak to six games. Ferris remains winless against conference opponents this year.
"It's obviously hard to go through a losing streak right now," said head coach Jeff Pierce, "But it is what it is right now."
Indianapolis was able to jump on Ferris early, as the Bulldogs turned the ball over in the first quarter when senior quarterback Kyle Parrish threw an interception on the second drive of the game. Indianapolis capitalized with a four-yard touchdown run by quarterback Paul Corsaro.
Ferris was never able to overcome the fast start by Indianapolis, as the Greyhounds posted 34 unanswered points over the first three quarters. The Bulldogs scored their lone touchdown of the game early in the fourth quarter on a 20-yard touchdown pass from Parrish to senior wide receiver Chris Wilson.
Indianapolis dominated the time of possession, where they controlled the ball for 37 minutes.
Ferris struggled on offense throughout the game, especially in the running game, where the team posted only 31 yards rushing. Turnovers also plagued the team, as Parrish threw two interceptions and lost a fumble. Wilson said the there is no lack of talent on offense.
"We're not executing when we need to be," said Wilson, "We've got a good offense with good players, but we need to figure out how to put it together."
Following the loss to Indianapolis, the Bulldogs are 1-6 overall. The setback marked the third consecutive loss of more than 21 points. Despite the frustration that has come with the losing streak, Pierce insists the team has not given up on the season.
"I've been proud of the guys and the way they've stayed together and battled," said Pierce, "But you can't make excuses for why we're not winning football games."
Up next for the Bulldogs will be a Great Lakes Intercollegiate Athletic Conference (GLIAC) match-up against Wayne State University. Ferris lost last year's contest 19-0, and Pierce said they will have to have a better effort against a team that currently stands at 5-2 overall.
"We know that they're going to be a good football team and that we have to fix a lot of issues," said Pierce, "We're going to have to turn around the way we're playing right now, but I think we're going to turn the corner."