Senior looks to end her career in a memorable fashion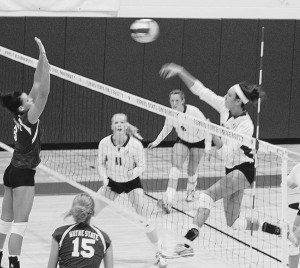 Senior volleyball player Kristy Gilchrist is looking to end her memorable career on a positive note.
Originally from Macomb, Mich., Gilchrist recently broke the 1,000 kill mark for her career. She has had a successful career and will look to end her playing days at Ferris with some great memories.
Upon graduating from Anchor Bay High School, Gilchrist had many opportunities to play for other universities. Gilchrist chose Ferris following an on-campus visit that made a strong impression on her.
"I was drawn to Ferris because of their elementary program," said Gilchrist, "But I was so impressed with how the team bonded on my visit, I felt so welcomed to the program."
Following a redshirt season in 2005, Gilchrist made an impact her freshman season in which she played a team high 111 games. Although Gilchrist had some success her freshman year, she had to make adjustments to balance academics, as well as athletics.
"Putting your priorities first and learning how to manage time is crucial," said Gilchrist, "I learned how to balance my schedule pretty quickly."
Gilchrist was able to continue her strong play into her sophomore season, where she was named an All-GLIAC second team selection and posted a team high 48 service aces. Gilchrist said that being named to the All-GLIAC team was one of the more important accomplishments of her career.
Building off of her previous success, Gilchrist carried the momentum into her junior season, where she was an honorable mention for the All-GLIAC team and led the team in kills in seven matches.
This season has proved to be successful for Gilchrist, as the team is currently in first place in the GLIAC North Division. Gilchrist has been named GLIAC North Division Player of the Week twice this season. No matter how the season finishes for the team, she will look back on the year as a success.
"This season has been amazing for me," said Gilchrist, "I've cherished and loved every second of it and I wouldn't change a thing."
With her career coming to an end, Gilchrist can look back at her time playing volleyball and feel good about the way it has unfolded.
"I will always remember the memories I shared with this team and all of the players I played with at Ferris," said Gilchrist, "I truly do feel blessed to have played on the teams that I have played on."