The football team is amidst its worst losing streak in 25 years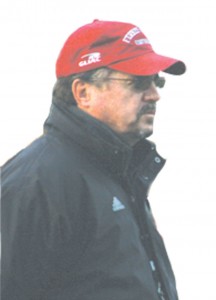 Jeff Pierce, head coach of the Ferris State football team, has never lost seven regular-season games in a row- until now.
The Bulldogs have not lost seven consecutive games in one season since 1983. Senior quarterback Kyle Parrish said that Pierce has dealt with the adversity very well.
"I've been on some losing teams and coach Pierce has handled it just about as well as anybody I've ever seen," said Parrish.
The troubles on the field this season can be attributed to a number of problems. Athletics Director Tom Kirinovic said he feels the biggest issue this season has been the number of injuries to key players, as well as the loss of many players to graduation. The NCAA allows Division II football programs to have up to 36 full athletic scholarships, known as Full Time Equivalency (FTE). Kirinovic said Ferris currently offers 30 scholarships and they are typically split between two or three players. Rarely is a first-year player offered a full ride, according to Kirinovic.
"We're now to the point where we are playing walk-ons against other teams' scholarship kids," said Kirinovic.
The Great Lakes Intercollegiate Athletic Conference currently has five teams ranked in the top 10 in the Super Regional 3 rankings and Ferris plays two of them, Saginaw Valley State and Hillsdale, in the final three weeks of the season.
"Our conference does not give you a lot of opportunity to catch your breath," said Kirinovic, "If you're beat up, you just have to deal with it."
Kirinovic said that Pierce is an honest, hardworking person who understands the educational part of athletics. Parrish said that he is always there to help the athletes whenever they need it. Parrish said Pierce invites him to eat dinner with his family, since he is from California and typically cannot go home.
"Whenever I have needed something, he is always there to help me," said Parrish.
None of the coaches or athletics staff have employment contracts for multiple years, as seen at the Division I level. At the end of each year, Kirinovic said he will sit down with Pierce and the staff and evaluate the season.
"We need to I think really scrutinize everything," said Kirinovic, "This is a time when you have to take a look at everything."
Pierce has been a successful coach in the past. Ferris is 21-12 under Pierce in the past three seasons, though the Bulldogs' win total has decreased each season. Pierce has won 91 games as the Bulldogs' head coach, more than any other coach in school history. He has 10 winning seasons and recorded three conference titles.
With the majority of the team returning next season, Kirinovic is hopeful that the team will turn it around.
"It's tough to be patient when you're getting your brains beat in, but if we can just try to stay positive and be patient, it should help us next year because we'll have all these guys that have played more than they probably would have otherwise," said Kirinovic.