Students, community members come together to cure cancer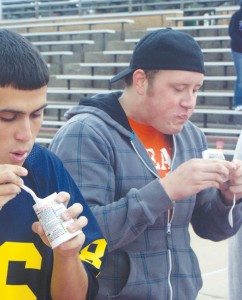 Joel Lawwell, senior in accounting and computer information systems, got more than his two to three servings of dairy on Saturday as he consumed seven containers of yogurt to support breast cancer awareness.
"It's painful, slightly delicious and when you get to the end and your body is telling you to stop, you just can't quit," said Lawwell. "I like yogurt because of the nutritional value, and my neighbor told me it was for a good cause," he said.
Lawwell came in second for the competition, and the winner, Jake Larry, successfully consumed 14 containers of yogurt.
The event, sponsored by Zeta Tau Alpha Sorority, was just one in a series of events the organization has planned and hosted throughout October in order to raise awareness and money for breast cancer.
Aaron Lodes, fundraising chair for ZTA, said this was a very successful month for Zeta Tau Alpha in their efforts to raise money and awareness for breast cancer.
"I am so proud of the success that we have all had, the spirit and enthusiasm is spreading throughout the campus and community," said Lodes.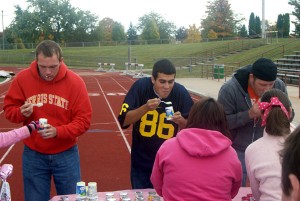 The Studio, a hair salon on S. Michigan Avenue, has been offering pink streaks in clients' hair for a $10 donation. Bri Borgman, a junior in the education program, is one of those ladies wearing her support in her hair. "I thought it was a cool way to support breast cancer," Borgman said.
The outpouring of support is expected to continue through this last week of October, which is officially recognized as National Breast Cancer Awareness month.