The conference tournament is up next for the Bulldogs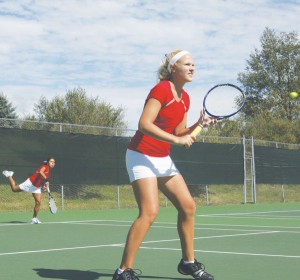 The women's tennis team lost its match on Friday, but was able to rebound on Saturday to split the weekend road series.
The Bulldogs began their two-game road trip to Ohio by dropping a 6-3 decision to the Ashland Eagles. The Bulldogs and Eagles split the six singles matches with three wins apiece. Ashland won all three doubles matches, however, to claim the victory. Junior Amy Ingle and sophomores Melissa Flowers and Mary Coleman were all victorious in their single sets.
"We knew it was going to be a tough match and the surface was extremely slippery, making it hard for us to adjust," said Ingle.
On Saturday, the team took advantage of the shorthanded Tiffin Dragons, en route to a dominating 9-0 victory. Tiffin was not able to field a full team, so they ended up forfeiting the final two singles matches and the third doubles match.
Junior Tiffany Rheynard and senior Daniela Dimas, along with Ingles and Flowers, all recorded victories in the singles competition. The doubles combinations of Natalie Diorio/ Mary Coleman and Daniela Dimas/ Melissa Flowers both claimed victories in the two doubles sets played.
"It was a good day overall, even without getting to play all the spots," said Ingle.
After the matches this weekend, the team is now 5-4 overall. The Bulldogs are fifth in the Great Lakes Intercollegiate Athletic Conference with a 5-4 record in conference play. Of the four teams ahead of Ferris in the conference standings, the Bulldogs defeated Grand Valley State and nearly upset Wayne State and Michigan Tech, losing 5-4 in both contests.
The weekend series concluded the fall regular season for the Bulldogs. Ferris travels to Lansing to compete in the 2009 GLIAC Tournament on Oct. 24-25, in the final event until the spring season.
"We have a team of girls that is very confident, hard working, and competitive," said Ingle, "And I think it is our time to step up and prove ourselves as a team."