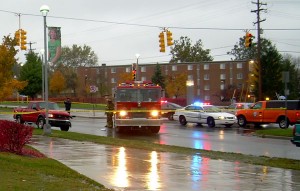 A male Ferris student was fatally struck by a car around 8 a.m. on State street near the front of the IRC building.
The student was later pronounced dead at the Mecosta County Medical Center. Public safety officials are currently working to contact the family of the victim.
Local and campus authorities responded to the accident shortly after it occurred. A police officer on the scene confirmed that the accident was fatal. Traffic in the surrounding area was rerouted.
Ferris Department of public safety officials, in addition to local city police worked together on the scene.
Continue to follow the Torch online, as well as on twitter (@fsutorch) and our newly created tumblr account for the latest news.