The women's tennis team won two matches after a first-round defeat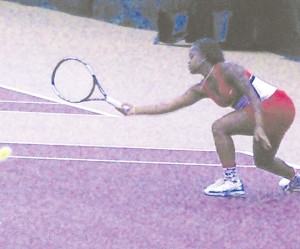 The women's tennis team won two of three matches over the weekend at the GLIAC Tournament.
The sixth seeded Bulldogs began the weekend with a loss to third seeded Michigan Tech early Saturday, 5-2.
The Huskies were able to jump on Ferris early in doubles as they won two of three matches. Michigan Tech also had the edge in the singles competition as they won three of the first four games.
The only Bulldog victories came from a doubles win from the pairing of senior Daniela Dimas and sophomore Mellissa Flowers, along with a singles victory by sophomore Natalie Diorio.
After the loss, Ferris had a chance to respond in the consolation match against the Lake Superior State Lakers. Junior captain Amy Ingle knew the team would be ready to bounce back going into the second match.
"It was definitely a rough loss during the first round," said Ingle. "But coming back from a tough loss is a key in competitive play."
The Bulldogs responded by beating the Lakers, 5-3. The team was able to take control early as it won two of the three doubles slots. The Bulldogs carried the momentum into singles competition, where they held on to a 3-2 lead.
After splitting the first two matches of the tournament, Ferris went into the fifth place match against fifth-seeded Ashland University with a high level of confidence.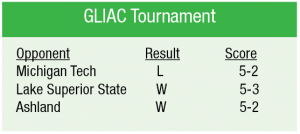 "After winning the two doubles matches against Lake Superior State, we were really fired up," said Ingle. "We just took our aggression out on the next two teams after the loss to Tech."
Ferris harnessed that aggression against Ashland, as they tallied a 5-2 victory. The victory gave the Bulldogs a fifth place finish at the tournament for the weekend.
"I feel the whole team played well this weekend," said Ingle. "Even some of our losses in singles and doubles this weekend were battles that showed what our team is capable of."
Following their tournament performance, the Bulldogs will not be back in action until the spring season. Ferris will begin the spring schedule with a trip to Calvin College on March 2.