Bulldogs look to build off GLIAC Tournament appearance last season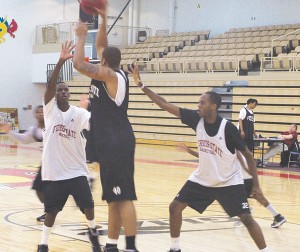 The Ferris State men's basketball team returns four starters and looks to improve its .500 record from last season.
Last season, the Bulldogs finished with a 14-14 overall record and a 12-10 conference record, which was good for third in the GLIAC. The team earned its fourth trip to the GLIAC Tournament in the last five years.
The team has four starters returning from last year: forward/center Justin Keenan, and guards Darien Gay, Dontae Molden, and Josh Young. The Bulldogs have eight players returning from last year's team. This year, the team's experience of playing with the same core group of players should be an advantage. Bill Sall is entering his eighth season as the Bulldogs' head coach.
"We have a lot more experience than in the past and during the off-season they worked really hard," said Sall.
Last year, Keenan and Gay were both All-Star candidates for the Bulldogs. Keenan led the GLIAC in scoring with 20.2 points per game a season ago and the Sporting News voted him as a pre-season All-American. Gay was an All-GLIAC second team pick last year.
Ferris will be looking to rely on its returning players to improve on last year's 14-14 record. Throughout the season, Ferris averaged more points, rebounds, assists, steals, and blocks, but were not able to turn those numbers into more wins.
"We have taken a lot of strides in a lot of different areas," said Sall.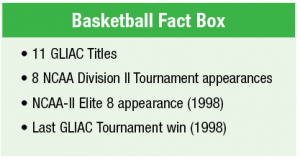 On the offensive side of the ball, Sall feels very comfortable with the team's inside presence and believes the guards will be able to provide some consistency.
Defensively, Ferris will try to pick up the pace and be more pressure oriented. Sall wants the team to be an aggressive and attacking team on both sides of the ball.
Overall, the team believes it can improve upon last year and sophomore center Jim Boylan believes the Bulldogs have the talent and mindset to do so.
"We have a good core of returning players and we all want to win the GLIAC," said Boylan.
Ferris opens the regular season on Nov. 15 at Lewis University (Ill.).