The Bulldog hockey team will travel over 6,600 miles this weekend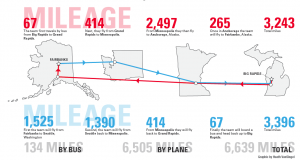 "It's kind of like your whole body changes. That's why you have to leave a couple days early because otherwise you will never catch up," said Wietecha.
The ice rink, often referred to as the sheet, is an Olympic- size rink. The sheet is the same length, but is 15 feet wider than the one in Ewigleben Ice Arena. Daniels said the penalty-kill and fore-check cannot be as aggressive due to the extra space.
"We have the smallest rink in the CCHA and they have the largest rink in the CCHA, so that's a little different too," said Wietecha.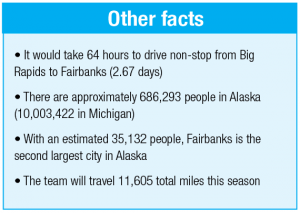 Alaska is also darker than the continental U.S. during the winter months. Daniels said when the team travels there between November and February, it feels like they landed on the moon. Fairbanks loses about five to 10 minutes of sunlight each day until December 21, on which it will have less than four hours of sunlight.
Ferris has been unsuccessful against the Nanooks in recent years, both at home and on the road. Ferris is 0-12-2 against Alaska in the previous 14 meetings and has not won since the 2003-2004 season. Their last victory at Alaska came in 2002-2003. Wietecha said the time change and travelling are not excuses for their struggles.
"We can't really use that as an excuse," said Wietecha. "They do it when they come down here, so we can't use that as an excuse ever."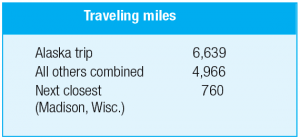 Ferris takes 21 players, two coaches, an athletic trainer and an equipment manager on the trip. Daniels takes one less player to Alaska than other road trips because he does not want them to miss any more classes than they absolutely have to, especially when not everyone will play as it is.
"We only take 21 players to Alaska because I don't feel good about taking players that far and then not dressing them," said Daniels.
Players miss three days of school and must do either extra work beforehand or make up the work upon returning. Junior defenseman Zach Redmond said he does not take any schoolwork on trips.
"I try and get it all done before so I don't have to worry about it," said Redmond.
The trip to Alaska is actually financially beneficial for the team. One stipulation that the CCHA put on the University of Alaska Fairbanks is the school is required to pay for the airfare and lodging for all conference opponents. In order to join the CCHA, the league required them to finance all travel expenses.
"Our only cost for the trip is our meals and our bus from here to the airport and back," said Daniels.
In addition, Ferris benefits financially because they are allowed to schedule two extra games. The NCAA allows teams to play up to 34 games during the regular season. However, all games played in the state of Alaska are exempt. Therefore, Ferris can schedule two additional home games and receive the benefit of ticket sales, parking fees, and concession revenue.
"Financially, it makes sense for Alaska to be in our league knowing that we get two extra home games," said Daniels.