The women's basketball team looks to adjust to a young lineup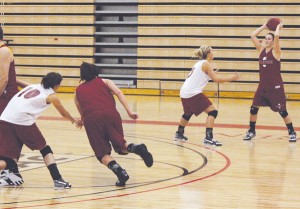 The women's basketball team will rely on a young lineup to try to make a run in the GLIAC this season.
The Bulldogs have to replace the entire starting lineup from a season ago. The team lost four seniors, including second team All-GLIAC guard Teghan Thelen.
Putting together an entirely new starting lineup is something head coach Tracey Dorow will have to adjust to.
"It's always something you have to adjust to when you graduate players, especially a whole lineup," said Dorow. "At the same time, it's really exciting because we have a lot of opportunities to surprise people since we're somewhat of an unknown in the league."
With such a young team, which has five freshmen on the roster, the Bulldogs will look to some of its veteran players for leadership.
One of the returning veterans the team will rely on this year is senior center Andrea Clancy, who earned the Sixth Player Award last season.
"Andrea has really stepped up into a leadership role and we needed her to," said Dorow. "She knew that we were losing our veteran leaders and I'm pleased to see her step up and be a leader."
Another veteran coach Dorow will look to lead is junior guard Becci Houdek. Dorow said Houdek is a leader on the court and has a knack for the game.
Even with having such a young team, Ferris is not concerned about the lack of experience of the younger players.
"We're a young team, but the freshmen are getting there," said Clancy.
Houdek said she is not worried about having a young team because people with experience have stepped up and have helped the younger players on the team.
The Bulldogs finished the 2008-2009 season with a 13-15 record overall, but won seven of the final nine games of the season. Getting off to a fast start this year is something the team believes will be crucial to the season.
"It's really important for us to start out strong early in the season," said Clancy. "We had some issues to start last season, but that's not going to happen this season."
Ferris finished third in the GLIAC North division last season and made it to the semifinals of the GLIAC tournament. The Bulldogs have high expectations for themselves for this year.
"We're a lot more balanced overall this year and the team chemistry has really improved from last year," said Houdek. "We don't care who does the scoring and we don't care how it's going to get done. We're focused on just making it happen."
The main goal for the team this season is to get to the regional round of the NCAA Division II Tournament, according to Houdek.
Ferris will start the season with an exhibition contest against Oakland University on Nov. 1 and will begin regular season play Nov. 20 against Gannon University (Pa.).