Hillsdale racks up 59 points on Ferris in lopsided victory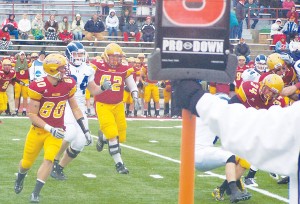 The Bulldog football team continued its slide this past weekend with its eighth consecutive loss.
Ferris continued its dubious streak with a 59-14 blowout loss to the No. 22 ranked Hillsdale Chargers in the home finale on Saturday. The Bulldogs had not allowed 59 points in a game since giving up 63 to Grand Valley State in 2001.
Hillsdale jumped on the Bulldogs early in the contest as it raced out to a 14-0 lead in the first quarter. Joe Glendening returned a blocked punt for one of the scores.
The Chargers continued to dominate Ferris in the second quarter, where they added 17 points on two touchdown runs and a field goal for a 31-0 lead at the half.
The Bulldogs continued their struggles in the second half as they allowed three touchdowns in the third quarter to give Hillsdale a 52-0 advantage.
Ferris was finally able to get on the board early in the fourth quarter as freshman Robert Banaszak connected with sophomore Mike Ryan on a 16-yard touchdown pass. Hillsdale responded with a 73-yard drive, which ended with an 18-yard touchdown reception by Jesse Norris.
The Bulldogs added a second score late in the quarter on a 27-yard touchdown run by freshman Tyler Thomas. The offensive spark came too late in the game and Hillsdale ran out the clock.
Most of the problems for Ferris came on the offensive side of the ball, as the team was only able to produce 151 yards of offense. Ferris had just 38 yards from the rushing attack in the contest. The Bulldogs also had three turnovers in the game, two of which resulted in touchdowns. Head coach Jeff Pierce acknowledged the troubles his team has had on offense.
"Obviously things are not going good right now on offense," said Pierce. "We've had to adjust to switching to a new offense and finding how people fit into the offense, but I think the guys are starting to get somewhat comfortable with it."
The Bulldogs had their struggles on the defensive side of the ball as well, as the team gave up 377 yards of total defense. The Bulldogs especially had trouble stopping the run, as Hillsdale racked up 166 rushing yards.
"We just didn't match up when it came to the line of scrimmage," said Pierce. "They kept us from moving the ball and we couldn't stop them from moving the ball on us."
Following the loss, the Bulldogs are 1-9 overall and 0-9 in the Great Lakes Intercollegiate Athletic Conference. Ferris has scored just 58 points over the past eight games combined.
The team will travel to University Center, Mich. on Nov. 7 to play Saginaw Valley State University in the final game of the season.