The Ferris club disc golf team defeated Western Michigan at home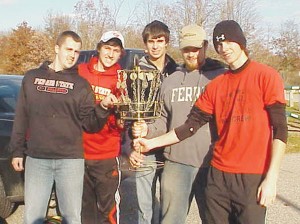 The Ferris club disc golf team defeated Western Michigan 70-49 at the Michigan Intercollegiate Disc Golf Challenge (MIDGC) third event on Sunday. The event was held at Northend Riverside Park and included four students from Ferris. Disc golf is played similarly to conventional golf in that there are 18 holes and your score is the number of strokes total. Typically, events are scored using stroke-play, which is simply based on the total number of shots a competitor takes and the lowest score wins.
This event, however, was match-play and each hole was awarded a number of points. Brad Way, a senior in the construction management program, said the winner of the hole received two points; each person was awarded one point if they tied and the loser did not receive any points. This event was unique in that players of all skill levels could play because players were handicapped to their individual average.
Senior Josh Pickard, a history major, picked up 32 points in the doubles round and 33 in the singles round. He is now in fifth place overall with 126 points overall.
Dr. Leonard Johnson has been coordinating the MIDGC series since the fall of 2006. It was at that time that the club disc golf team was created at Ferris. Once a month, students from colleges and universities around Michigan compete against one another in organized events.
"The sport has grown so much that there is a tournament somewhere in the state every weekend," said Johnson.
This was the third MIDGC event of the season. Ferris won the first tournament over Western Michigan 62-48. It was held on the final weekend in September in Three Rivers. Pickard and Way represented Ferris in the victory.
The second event took place on Oct. 10 at Oshtemo Township Park near Kalamazoo. Ferris defeated Western Michigan in the doubles match, but dropped both singles matches and lost 97-88 overall.
Johnson said that students from Central Michigan, Michigan State, Lawrence Tech, Schoolcraft, Grand Valley State and Western Michigan have all competed in various events. Way said this season Western Michigan and Ferris have been the only two schools consistently competing in the events.
It costs $10 for the match-play and an additional $10 to be counted for stroke play. Any person can win cash payouts for the lowest score of the tournament, according to Way.
Last season Ferris defeated Western Michigan to claim the 2008-2009 MIDGC Championship. With the victory on Sunday, Ferris now leads 220-193 overall. The season began in September and runs through May, with one tournament each month.